Sinn Féin leader Gerry Adams has accused the US government of behaving bizarrely after a meeting with a senior official in Washington DC was postponed.
Northern Ireland's First Minister Peter Robinson and Deputy First Minister Martin McGuinness cancelled plans at the weekend to go to the US to concentrate on finding a deal on welfare reform.
The pair were due to meet President Barack Obama tomorrow as part of St Patrick's Day ceremonies.
Mr Adams, who has travelled to the US, said: "The State Department's handling of the issue of a meeting with me is bizarre.
"It serves no purpose other than to distract attention from the main issue.
"That is the full implementation of the Stormont House Agreement. That is Sinn Féin's main focus. And Martin McGuinness and Peter Robinson are working on this as we speak".
He added: "It is no skin off my nose not to meet the State Department. I am more concerned with protecting the rights and entitlements of citizens back home. That will remain Sinn Féin's firm objective."
A Sinn Féin spokesperson said that Mr Adams never had any confirmed meeting with the State Department during his trip.
There had been what was described as a bit of 'back and forward' about trying to arrange a meeting but it was proving difficult to match up schedules.
Mr Adams has now arranged a meeting with an official from the State Department tomorrow but there are no further details regarding a time as of yet.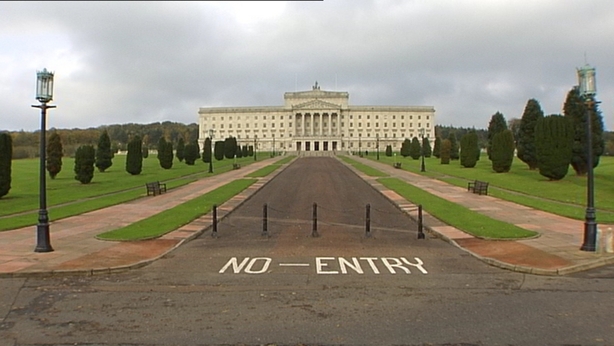 Stormont leaders expected to meet this week
Meanwhile, leaders of the five Executive parties in Northern Ireland are expected to meet this week to discuss welfare reform.
Northern Ireland Secretary Theresa Villiers will chair the talks.
Ms Villiers said: "I believe that all sides accept we need to find a way through this and see the Stormont House Agreement fully and faithfully implemented.
"Over the last three days, the Executive parties have been involved in intensive discussions on this and I hope to chair another leaders' meeting this week to assess progress."
The row over welfare reform erupted when Sinn Féin made a shock announcement hours before a final Assembly debate.
It centres on whether Stormont-funded mitigation schemes designed to support those in Northern Ireland who lose out under the reformed UK welfare system will cover future claimants, not just existing ones.
Sinn Féin pulled support after alleging the DUP acted in bad faith by proposing to limit the schemes to current claimants.
The DUP has insisted there was never an agreement to support future claimants and said such a system would require another £286 million.
Implementing the UK government's changes to the benefits system is a key plank of December's landmark Stormont House Agreement which was agreed after 11 weeks of intensive negotiations.
Without the long-delayed legislation passing, the whole deal would probably implode and the future of the power-sharing institutions would be plunged into uncertainty.
Ms Villiers has warned that without agreement on welfare the budget would be unsustainable and the devolution of corporation tax powers would be put in jeopardy.
In Washington DC she said tax powers were due to complete their journey through Parliament tomorrow.
"There can be no doubt that the decision of Sinn Féin and others to block the final stage of the welfare reform Bill in the Assembly was a major setback.
"I'm afraid there's no room for ambiguity. Implementation of the welfare reform package is a key part of the Stormont House Agreement.
"Failure to resolve this could have profound implications. Without welfare reform the Executive will enter the new financial year in a few weeks' time with a budget that simply doesn't add up.
"We would be right back in the same crisis position we were last autumn, with the prospect of the Executive starting to run out of money and facing an existential crisis."
She warned all the other elements of the Stormont House Agreement would fall if the welfare aspects are not implemented, including the structures on the past, the financial package and corporation tax devolution.
"The consequences could be dire and should that prove inconclusive, even see the collapse of devolution altogether."
Taoiseach Enda Kenny said the current difficulties were among the topics that were discussed before the parties concluded the Stormont agreement some months ago.
Speaking in Texas yesterday, Mr Kenny said he would urge Mr Robinson and Mr McGuinness to deal with their outstanding issues.