The Minister for Finance has said that figures published by the Irish Times on home repossessions were more a reflection of banks using the courts more to force home-owners to "engage" with them, rather than reflecting a large number of repossessions.
Michael Noonan said the Government did not see home repossession as "part of the solution" to the mortgage arrears problem.
Speaking on arrival at a meeting of eurozone finance ministers in Brussels Mr Noonan said, "I think what the figures show is the banks using the courts to get people to engage with them who haven't engaged."
"The Government position is, we don't see repossession as a solution and we don't want repossession to be a solution."
"But there is a whole menu of solutions, and over 90,000 mortgages have been restructured over the last three years. In December alone 2.500 mortgages have been restructured."
"What we want people to do is to engage with their lenders and see if they can work out a restructuring which will be suitable for their particular case."
Earlier, the CEO of the Irish Mortgage Holders Organisation warned the number of home repossessions could reach 25,000 within the next two years.
Figures from the Courts Service, obtained by the Irish Times and published today, show more than 7,000 repossession orders have been lodged with the courts as of 1 January this year.
Speaking on RTÉ's Morning Ireland, Mr Hall said the majority of the repossession orders were for family homes.
He said the reason the rate of repossession orders was growing was because property prices were increasing, which in turn increases the value of properties for the banks.
He moved to assure those who had repossession orders issued against them that it is not too late to engage third-party assistance such as an insolvency practitioner.
He said it is very important that people engage with their lender, although it might prove more difficult once their case comes before the courts.
Today around 98 families will appear before Dublin District Court to face a repossession order.
Mr Hall said the average, typical circumstances of his clients are families living in three-bed, semi-detached homes with young children, who have faced job losses or reduced hours at work.
In response to comments made by Minister of State at the Department of Finance Simon Harris who said yesterday that the insolvency process needed "tweaking", Mr Hall, said the insolvency service is flawed, and that it is not functioning as it should.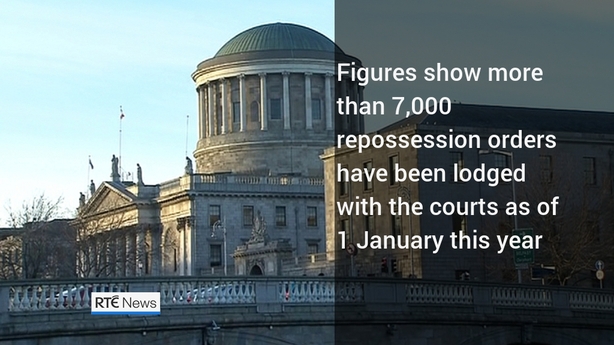 New Beginnings has said the increase in orders for house repossessions is not surprising.
Speaking on RTÉ's Today with Sean O'Rourke, spokesperson Ross Maguire, said the increase was as a result of the Gunn judgment, which stopped home repossessions being repealed at the end of 2013.
Mr Maguire said it made sense that there could be 25,000 home repossessions over the next two years.
He said while many in mortgage arrears can benefit from debt restructuring, there are between 30,000 and 50,000 families in the country for whom no such solution is possible.
Mr Maguire said a radical approach was needed to deal with the problem.
"Back in 2010, they came up with this idea of mortgage to rent or mortgage to lease and the idea of that was someone would surrender their house either to a housing authority or somebody who would then rent it back and I think an industrial version of that is what's needed, otherwise you have two possibilities.
"One is mass repossessions which I think is probably socially unacceptable in this country, I hope it is and the other is ongoing inertia which is not good for the banks and not good for the economy generally."