Gerry Adams has told the Sinn Féin Ard Fheis the party wants a mandate for government, and in office would use the country's wealth to support social equality.
The party leader made the comments during his presidential address this evening, which closes the Sinn Féin conference in Derry.
He said: "Sinn Féin wants a mandate for government. I believe we can win that mandate. Sinn Féin will not prop up either a Fine Gael or a Fianna Fáil government. Sinn Féin wants to lead the next government."
The theme of this Ard Fheis has been Sinn Fein in government and it was a note continued in Mr Adams' address.
He began by welcoming the Friends of Sinn Féin in the USA and the party's other international allies. He then criticised the British government for cutting back on funds for Northern Ireland.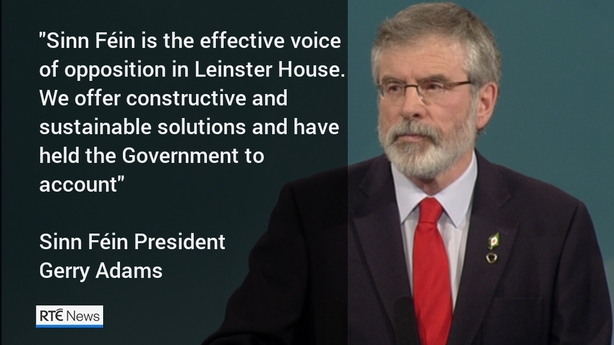 Mr Adams insisted austerity was not the solution to economic problems North or South, claiming it had delivered an economic nightmare in the Republic.
"The economic crisis and austerity policies of Fine Gael, Labour and Fianna Fáil have forced half a million of our people to leave. It's time to bring our emigrants home," he said.
He said Sinn Fein's goal was to build a real all-island Republic, adding people North and South realised it made no sense to have two health systems, two education systems and two currencies.
Mr Adams also said the party's ideals were resonating with the electorate and that was why it was the focus of attacks from Fine Gael and Labour.
Earlier, a motion calling for abortion in limited circumstances passed at the party gathering in Derry.
A second motion calling for members to repeal the 8th Amendment to the Constitution, which bans abortion, was also passed.
The motion calling for abortion in limited circumstances was introduced by the party's health spokesperson in Leinster house Caoimhghín Ó Caoláin.
He told delegates Sinn Féin needed to "face up to responsibility", where a woman, or a couple are confronted with a child who has a fatal foetal abnormality.
The party's Vice President Mary Lou McDonald also asked delegates to support the motion.
She said giving women a choice would be the decent thing, the right thing and the republican thing to do.
Of those who spoke, one member called on Sinn Féin members to vote against the motion, however, it was passed by a majority.
Earlier, Ms McDonald told the Ard Fheis the party was ready for government in the Republic.
She accused the Labour Party and in particular Minister Alan Kelly of "macho posturing" and criticised them over the introduction water charges and property tax.
Taoiseach Enda Kenny responded to the claims by Sinn Féin it is ready to govern by saying he does not believe their policies will help with economic recovery.
Speaking after his address at the 27th Young Fine Gael National Conference in Limerick, Mr Kenny insisted he is confident Fine Gael and Labour will be returned to power after the next election.
Mr Kenny said the challenge for government is to secure full economic recovery and a full employment for 2018.
At the Sinn Féin Ard Fheis, Northern Ireland's Deputy First Minister Martin McGuinness took to the podium to set out the party's stall ahead of next year's general election.
His speech echoed his keynote address last night, in which he said Sinn Féin's goal next year is for the party to be in government, both North and South.
This, he said would be "massive".
Finance Spokesperson Pearse Doherty also reiterated points he made last night.
These included scrapping water charges and home tax, removing the bank veto, reducing bankruptcy and addressing the bank debt.
MEP Lynn Boylan's contribution got the biggest response from delegates with much applause from the hall throughout.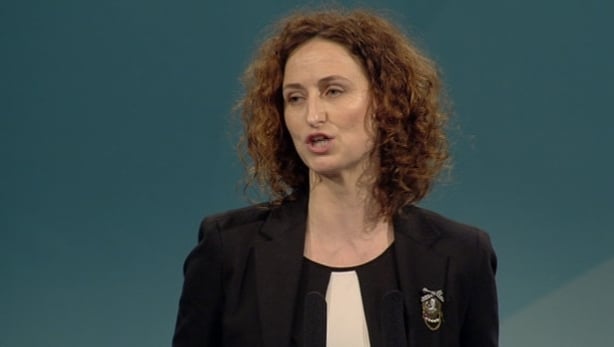 In it she said "Fine Gael and Labour's regressive taxes attack the family home".
"Water charges are the same as the current Government", she said, "unfair, unjust and an unwanted imposition on the people of Ireland".
She said jailing water protesters showed that "dissent would not be tolerated".
The aim was, she said to break the civil war right wing Government of Fine Gael and Fianna Fáil.
ICTU looks forward to working with Sinn Féin in government
President of the Irish Congress of Trade Unions John Douglas said he looked forward to working with Sinn Féin in government "both North & South" next year.
Mr Douglas was speaking at the party's Ard Fheis in Derry.
He thanked delegates for supporting ICTU members, citing Dunnes Stores workers as a current example.
He said he expected 8,000 or 9,000 Dunnes Stores workers to take to the streets in the coming weeks and he said he was confident Sinn Féin would support them.
Delegates have been listening to motions centred on getting Ireland back to work at the Millennium Forum.
MEP Liadh Ní Riada spoke about the Irish language.
One of the few delegates to give an entire contribution in Irish, she expressed her frustration at being unable to use her own language in the European Parliament.
She said it was time for people to stand up for their rights.
The party's Education Spokesperson in Leinster House, Jonathon O'Brien, criticised the Government for "failing in the area of housing".
He said poverty and homelessness seemed to be the fate of many people and this he said "seemed ok on the current Government's watch".
He said Sinn Féin would ensure housing is a right bestowed on all its citizens.
Sinn Féin President Gerry Adams will deliver his live televised keynote address to delegates at 8.30pm.