The Department of Health has published the first report comparing deaths in hospitals, covering a range of conditions such as heart attacks and stroke, as well as waiting times for hip fracture surgery and Caesarean section rates.
The National Healthcare Quality Reporting System report also names 35 hospitals involved for the first time.
Department of Health Chief Medical Officer Dr Tony Holohan said patients have a right to know this information and ultimately it will help to improve services and patient outcomes.
However, he said the data was not perfect and provides indicators of performance but does not explain why rates may be at a certain level.
The period in review is 2011-2013.
In relation to death rates within 30 days of admission to hospital, due to heart attack, the hospitals with the highest rates are: the Midland Regional Tullamore, Cavan General and Connolly in Dublin.
The lowest death rates are at the Midland Regional Portlaoise, the Mater and Kerry General.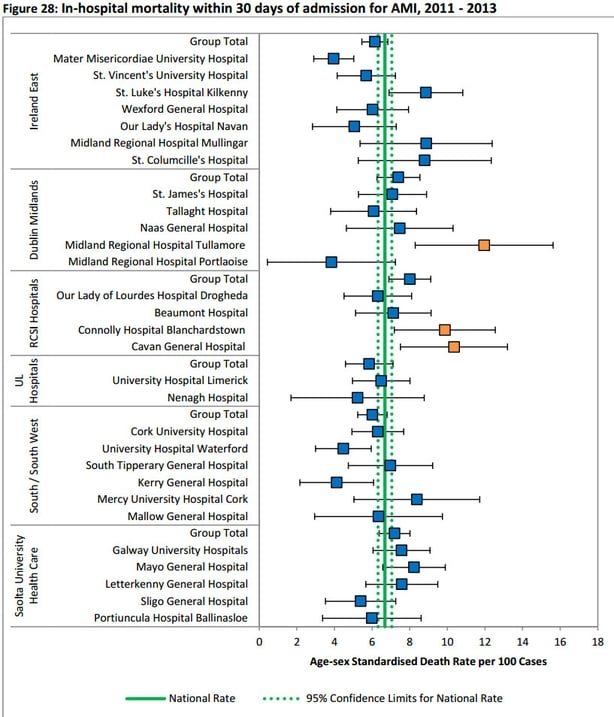 Hospitals with the highest death rates from ischaemic stroke are Cavan General, Cork University Hospital and Connolly.
The lowest rates are at Tallaght, Portiuncula and Sligo General.
The hospitals with the highest rates of Caesarean section are St Luke's in Kilkenny, Mayo General and Galway University.
The lowest C-section rates are at Sligo General, Wexford General and the National Maternity Hospital Holles Street.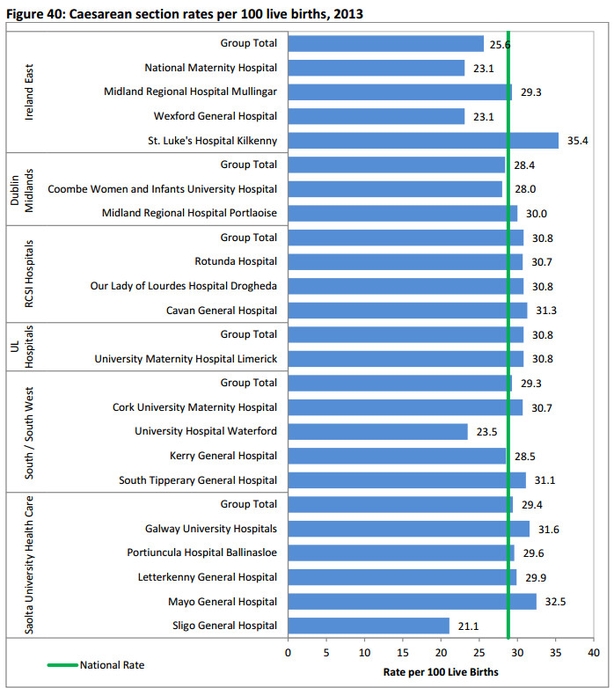 The hospital with the longest waiting time for hip fracture surgery, ideally within two days of admission, is Cork University Hospital and the shortest waiting time is St Vincent's Hospital.
Health officials say that higher than average death rates should not necessarily be seen as suggesting poor care and there are limitations to the findings.
Patients may have other illnesses and be on medicines that contributed to death.
There are many factors that can influence the rates including complexity of cases; if a hospital is a major referral centre and socio-economic factors linked to location.
The report does not look at death rates that occur outside of hospital within 30 days.
Dr Holohan said the report would help to improve services and patient outcomes.
He said the purpose of the report was to ensure that at every level of the health services, improvements are made in the culture of measuring, reporting, comparing performance and of benchmarking that performance to international standards.