The European Central Bank's President Mario Draghi has said the bank will start its bond purchases programme on 9 March.
The ECB will purchase sovereign debt until at least September 2016.
The authority has also raised its forecasts for growth of the euro zone economy this year and next year, but has cut its 2015 inflation forecast.
Mr Draghi told a news conference that the central bank had increased its area-wide growth forecast to 1.5% in 2015, 1.9% in 2016 and 2.1% in 2017.
At the same time, inflation was set to come out at zero this year, lower than previously projected.
But inflation would then pick up to 1.5% next year and to 1.8% in 2017, he said.
Mr Draghi made his comments as the ECB left euro zone interest rates unchanged today, holding them at record lows while it deploys a large scale money-printing plan aimed at lifting inflation out of negative territory.
Mr Draghi said the bond purchase programme was already having positive effects on the euro zone economy.
The ECB will purchase sovereign debt until at least September 2016.
"We will on 9 March 2015 start purchasing euro-dominated public sector securities in the secondary market", Mr Draghi told a news conference after the bank's policy meeting in Cyprus.
"We will also continue to purchase asset-backed securities and covered bonds which we started last year," he added.
The euro zone is showing signs of accelerating growth with major consumption and leading indicators beating forecasts since the ECB unveiled the asset purchase plan on 22 January.
Draghi said that the ECB's moves would support the emerging data. The ECB plans to spend €60 billion a month on buying sovereign bonds, and some private sector assets.
Meanwhile, today's decision to leave the cost of borrowing at record lows was widely expected after the ECB cut rates to rock-bottom levels last September and the bank's president, Mario Draghi, then said they had hit "the lower bound".
At today's meeting held in Cyprus, the ECB left its main refinancing rate, which determines the cost of credit in the economy, at 0.05%.

It also kept the rate on bank overnight deposits at -0.2%, which means banks pay to leave funds at the ECB. It held its marginal lending facility - or emergency overnight borrowing rate for banks - at 0.30%.
ECB says willing to restore financing for Greek banks
European Central Bank chief Mario Draghi said today that the bank is prepared to restore a key channel of financing for Greek banks once Athens reaches a debt deal with its euro zone partners.
"The ECB is the first to wish to restart lending to the Greek economy providing the conditions are in place," Draghi said.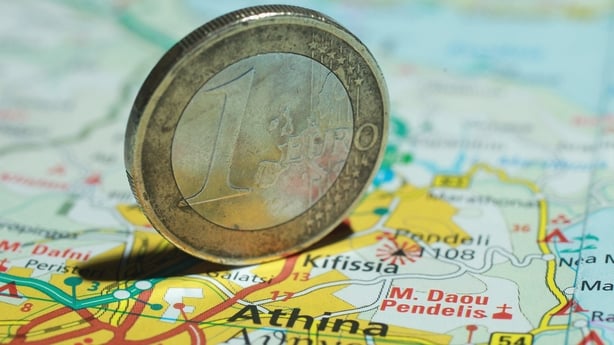 And one of the conditions was that Greece and its partners should put in place "a process which suggests successful completion of reviews," he said.
Greek banks are dependent on the ECB for financing, but the ECB has said it no longer accepts Greek sovereign bonds as collateral for loans.
It had done so previously under a special waiver mechanism, but only as long as Greece continued to abide by the conditions of its bailout programme.
However, Athens' new anti-austerity government under Prime Minister Alexis Tsipras was elected on his promise to renegotiate the tough bailout conditions. And the ECB rescinded the waiver until a new deal was reached.
"Right now the ECB cannot buy Greek bonds," Draghi said. "If certain conditions are in place as far as economic policy is concerned, that would make the governing council think that in some time from now bonds would again be eligible," he added.

Without the waiver, Greek banks now rely solely on emergency liquidity assistance (ELA) which is more expensive than normal central bank refinancing operations.
Cyprus wins praise from ECB chief
Bailed-out Cyprus will return to growth in 2015 following a three-year recession, a survey showed today, after the island won praise from European Central Bank chief Mario Draghi.
An economic review by the small EU member's second largest bank, Hellenic, said Cyprus could be on course for marginal 0.5% GDP growth from a decline of 2.3% in 2014.
But it tempered this prediction by saying growth could be derailed by slow structural reforms and a struggling Russian economy.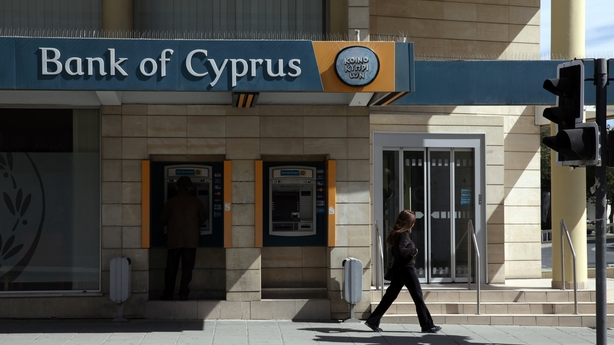 The report was published soon after Mr Draghi, in Nicosia for an ECB meeting, said Cyprus had shown remarkable strength in toughing out a painful bailout deal.
"We know the Cyprus people have made considerable sacrifices," he said at a dinner in his honour last night.
"It is therefore encouraging to see that there are signs of stabilisation and recovery on the horizon," the ECB chief said.
"The programme has been yielding very concrete results, in fact even better results than were forecast two years ago.Indeed it is remarkable that Cyprus is on track to exit the excessive deficit procedure two years ahead of the 2016 deadline," he stated.
"All these achievements are impressive and command respect from the rest of Europe."
Around 4,000 demonstrators had protested outside a Nicosia conference centre where the ECB Council was meeting, calling for an end to the harsh austerity policies they say have driven many to unemployment and on the poverty line.
Under the slogan of "save the people, not only profits and banks", they called for more spending on job creation rather than slashing social welfare and benefits.
In March 2013, Cyprus clinched a €10 billion loan from the European Union and International Monetary Fund to bail out its troubled economy and oversized banking system.
Under the terms of the deal, the government was required to close the island's second-largest bank, Laiki, and impose a 47.5% haircut on deposits above €100,000 at the Bank of Cyprus.
The bank, the island's biggest lender, has since undergone major restructuring, which included absorbing the good assets of the former Laiki Bank.
Austerity measures have also led to tax hikes, salary cuts and social welfare benefits slashed.
The Mediterranean holiday island recorded a 2.8% drop in tourism revenue in 2014, the first decline since 2009, official data showed last week.