Glanbia Ingredients Ireland has officially opened its new state-of-the-art dairy processing facility at Belview port in Co Kilkenny.
It is the largest single infrastructure investment in Ireland by an indigenous company since the construction of Ardnacrusha in 1929.
The plant is expected to contribute an estimated €400m a year to the Irish economy.
Glanbia has spent €180m on the project to date and has built a world-class processing plant.
It has the capacity to produce up to 100,000 tonnes of nutritional dairy powders a year, making it one of the biggest facilities of its kind in Europe.
Glanbia says it is "scalable" - meaning it is prepared to extend it further if global demand for dairy products continues to grow.
All of the dairy and nutritional products that come out of the plant will be exported to consumers in the Middle East, Africa, Central America, and Asia.
The company estimates that although about 75 direct jobs will be created, another 1,600 indirect jobs will be created elsewhere throughout the country as a result of all the extra dairy activity that will result.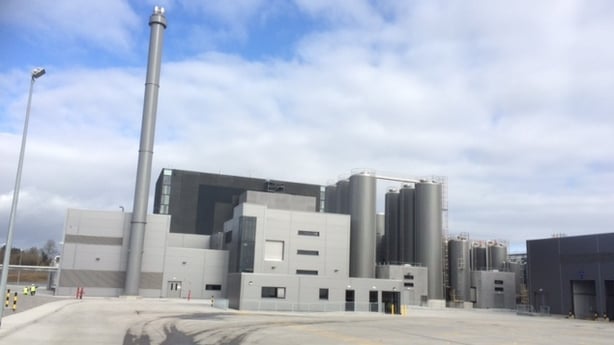 About 4,800 dairy farmers supply Glanbia with milk, and the completion of this facility represents a huge boost as well as a major vote of confidence in the prospects for the Irish dairy sector once EU dairy quotas are abolished in four week's time.
CEO of Glanbia Ingredients Ireland Jim Bergin has said the company's new facility will bring more security for milk suppliers.
Speaking on RTÉ's Morning Ireland, he said it was a major development for Irish dairy.
"We have to remember from 1975 to 1984 Ireland was one of the fastest growing milk production companies in the world.
"We have had 30 years of stagnation. So now with investment in this facility we are unlocking the great potential of our milk suppliers."
Mr Bergin admitted that volatility is the biggest challenge for the company's milk suppliers and that they may expand the fixed price scheme.
Ireland currently supplies 10% of the world's infant milk formula but the hope is to increase production by 63% over the next five years.
Taoiseach Enda Kenny, Minister for Agriculture Simon Coveney, EU Agriculture Commissioner Phil Hogan, Enterprise Minister Richard Bruton and other politicians joined Glanbia management and more than 300 invited guests at the launch of the facility this afternoon.