Head of Economics at NUI Galway Alan Ahearne has said that the money used to recapitalise the banks is not money down the drain.
He told the banking inquiry that the collapse of the banking system and the economy meant that the markets were not confident in lending to the Irish State.
Professor Ahearne said that Anglo was a very big bank and you could not shut it down there and then.
Mr Ahearne also told the inquiry that in the period prior to the crash there were very few predictions of a "hard landing".
He said the overall consensus seemed to be there would be a soft landing.
He added, following an article he wrote in 2007 in which he warned that the property market was likely to crash and advised investors to get out of the market, he had socially met people in the industry.
Some said to him that "there's a lot of guys gunning for you after what you said", and that "actually the bubble burst last summer, this has been the best kept secret in Ireland for the past nine months".
Professor Ahearne said he was invited to meet then minister for finance Brian Lenihan in 2008 for a wide-ranging discussion on the Irish economy.
He said he told Mr Lenihan that "it would be important that you have a very accurate picture of what these banks are like, what their loan books really look like".
He said they had discussed Anglo Irish Bank and Irish Nationwide because they were the two banks most exposed to the property market.
The professor said it was news to him when Mr Lenihan told him that Irish Nationwide was "extremely exposed".
He said the minister mentioned that Anglo was "troubled" but that it also had some "good stuff."
Professor Ahearne said he was surprised to hear this because all the rumours he had heard at the time was that it was a complete "basket case".
He said he started hearing rumours that some of the banks may have been rolling over loans to developers.
"Rather than a developer actually defaulting they were making a new loan to the developer, the developer would use the money from the new loan to pay back the old one and therefore the developer would not be in default, so it would look on the banks books that the loans were fine."
Concern over 100% mortgages
Professor Ahearne also said that a property bust does not automatically mean a banking bust.
He told the inquiry that a detailed knowledge of a bank's books would be needed to make an assessment.
He said that the losses banks have suffered from commercial property lending has been greater than the losses they have suffered on mortgage lending.
Professor Ahearne said that he was concerned about the development of 100% mortgages.
He was also asked about a later meeting with Mr Lenihan in Galway when the minister had spoken cryptically about whether you could knock over two dominos without knocking the other four, and said he had taken that meant he was contemplating the closure of Anglo and INBS but was concerned about the knock-on effects.
He said at the time of the bank guarantee that it was important not to let the banks go into disorderly failure.
He said he did mention how important it was to safeguard deposits but he did raise the issue of surbordinated debt in the same article and was puzzled why they included subordinated debt.
He said it does not mean there was not a good reason but he could not think of any.
He said it was also puzzling why Olli Rehn had said the bank guarantee was a mistake given that the European Commission had approved it.
Professor Ahearne said it was disappointing that the International Monetary Fund had failed to predict the crash.
Booms and busts are surprisingly common and when they got going it was very difficult it to stop them, he added.
"Booms are very popular when they're happening. It's fantastic, the amount of money coming into people's pockets is just brilliant," he added.
Housing proposals reversed too early, inquiry hears
Earlier, an economist who made several recommendations on the housing market said the government reversal of some of his proposals in 2001 was too early and resulted in price increases.
Dr Peter Bacon, who also conceived of NAMA, said the agency was more focused on collecting debts than maximising value.
He compiled three reports on the housing market in 1998, 1999 and 2000.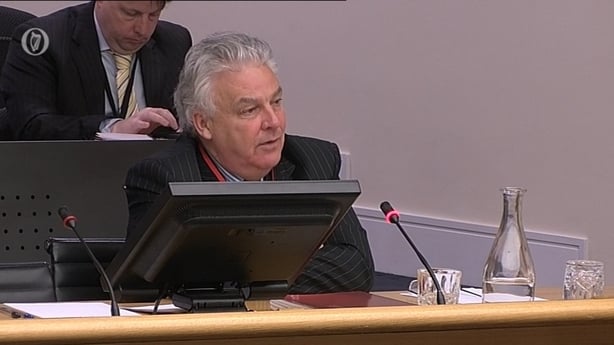 He said all of his recommendations were implemented by government and these resulted in greater price stability and curtailed investor demand by removing some tax incentives.
He said these measures hurt investors and they felt them in their pockets.
Banking inquiry chairman Ciarán Lynch asked about the reversal of some of his recommendations in 2001 when the government cut stamp duty to investors.
Dr Bacon said these were implemented too early and he was not consulted. He said he was a paid economic consultant.
Asked if these measures resulted in price increases, he said they did.
The economist told the inquiry that an asset management approach had the potential to maximise taxpayer returns and achieve resolution of the impairment issues upfront.
Dr Bacon said the NAMA solution also had the advantage of not relying on existing bank management and banker-developer relations, which had brought about the problems in the first place.
He said the recognition of pain at the outset, by taking write downs, contained the merit of certainty and clarity.
He said NAMA also delivered economies of scale in administering workouts and benefited from the granting of special powers to the government agency to expedite loan resolution.
Dr Bacon said NAMA acted more as a debt collection agency rather than a property value maximising entity.
He said his issue was with the ethos and not the general approach.
He said NAMA had a huge opportunity as it had the biggest property portfolio under one roof, and which had been acquired at rock bottom prices.
Dr Bacon declined to reveal the estimated level of loan losses in his original NAMA report in March 2009.
Sinn Féin's Pearse Doherty said he had obtained the full unredacted report under Freedom of Information and the figure was estimated at €34bn.
Dr Bacon said he could not comment on that as he was bound by the Official Secrets Act.
He said at the time, there appeared to him to be a serious risk to banks' solvency.
Fine Gael Senator Michael D'Arcy said this was remarkably close to the actual turnout of €32bn.
Mr Doherty said the total loans in the published report was €80-90bn but the official report put the figure at €158bn.
Dr Bacon said the difference related to all the additional investment loans on top of the development loans due to cross guarantees, not just associated investments.
Fine Gael TD Kieran O'Donnell asked about differences between the two reports.
Dr Bacon said the published one was an abridged summary report. Mr O'Donnell said the two reports were fundamentally different. Dr Bacon said there were no inconsistencies.
Asked by Independent Senator Sean Barrett, about what might be in a fourth Bacon report, he said he would question why seven or eight years after the collapse, we were still dealing with a mortgage arrears problem.
He said banks had not resolved this and this was constraining the supply of second hand homes.