Minister for Education Jan O'Sullivan has said she intends to proceed with implementation of Junior Cycle reform, on the basis outlined in a document by Dr Pauric Travers.
Dr Travers, a former president of St Patrick's Training College, Drumcondra, has chaired discussions between teachers' unions and the Department of Education on the reform proposals.
In a joint statement issued after talks last night, the Association of Secondary Teachers Ireland and the Teachers' Union of Ireland said Dr Travers' proposals did not represent a comprehensive resolution, but rather a basis for further negotiations.
Responding to that statement, the minister said that she deeply regretted their failure to accept what was a fair and reasonable compromise.
She said Dr Travers had requested that both parties would either accept or reject his proposals as a basis for agreement, not as a starting point for negotiation.
She also criticised the unions for failing to suspend the threat of further industrial action.
The unions have said they decided not to proceed with another strike at this time, but will keep industrial action under review.
The dispute has already resulted in teachers staging two strikes, on 2 December last year and on 22 January.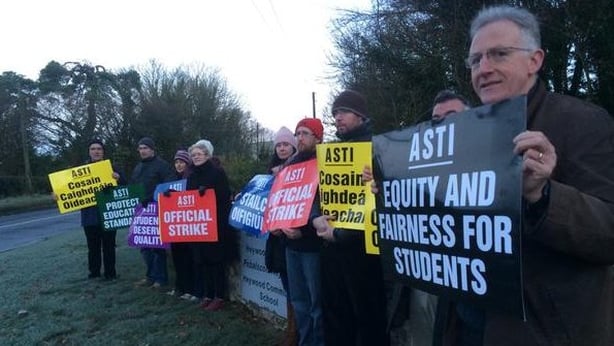 Ms O'Sullivan said the fact that both unions had failed to accept the compromise proposals without balloting their wider membership, on what was a significantly different proposal, was a matter of concern.
The statement said one group could not have a veto on the reforms, and that the minister was open to the unions revising their decision.
On Monday officials from the department will meet other education partners, including students, parent representatives and management bodies, all of whom are positive towards the Travers proposals, to update them on the minister's implementation plans.
ASTI General Secretary Pat King described Ms O'Sullivan's response as disappointing.
He said Dr Travers' document represents a good basis for further intense negotiations.
He said the ASTI does not understand why the minister and her colleagues in the department are not willing to engage further in negotiations.
Mr King said they want to make it very clear, and he said that Dr Travers made it very clear, that this dispute will not be solved without the teachers.
He said Dr Travers made it clear that you cannot introduce a new programme without the engagement and the involvement of the practitioners.
Mr King said they took the decision not to take a third day of strike action, even though they have a mandate for it, in the interest of students.
He said the minister's decision to move on and implement Dr Travers' document is most unwise.
Mr King said he will be writing to the department on Monday morning saying the ASTI wants to continue the discussion.
He said Dr Travers' document is the basis for further discussions, and the union wants to move on from there. He said the department must engage with unions on this.