Labour's fight for a second term in Government will be tough and will take courage, the party's leader Joan Burton has told delegates at the party's national conference in Killarney.
"Now, the fight for a second term will take all our energy, skill and courage. It's going to be tough. But it's a fight we embark on with utmost conviction," the Labour leader told the conference.
The Tánaiste said Labour politicians must take the conviction they hold in the core value of the party to the doorsteps.
The Labour leader added, the party's task is not to win a second term alone but to have sufficient strength to make its presence felt - just as it has done in Government.
Welcoming delegates to Killarney, she said the Labour Party has risen to the challenge of rescuing the country in a dark and difficult hour.
She said the shadow of crisis has passed and that Labour was central to this turnaround with more jobs being created, increasing wages, and renewed prosperity.
She outlined her objectives as leader as "building a social recovery" and delivering opportunity for all, and highlighted what the party has achieved in Government, including bidding the troika goodbye and exiting the bailout.
"We shut down Anglo and tore up the toxic promissory note - which was toxic," she said.
"Thanks to superb work by Eamon Gilmore and Brendan Howlin, we renegotiated our debt burden to save tens of billions of euro. These successes were the gateway to progress on so many other fronts, economic and social," she added.
Highlighting the Budget she said the process of raising living standards has begun.
Ms. Burton also said building the economic recovery is one of the things she is proudest.
She said the work on social recovery has only just begun and that the party would use "every last remaining day of this Government to increase prosperity and reduce poverty".
"We'll fight tooth and nail to return to Government to keep doing the same, and more again,"
A motion calling for a referendum repealing the Eigth Amendment has been passed at the conference.
The motion suggested that it be included in the Labour manifesto for the next general election.
Those who spoke on the motion included Senator Ivana Bacik, Emmett Stagg, Aodhán Ó Ríordáin and the Minister of State Kathleen Lynch who commended the motion.
There was a round of applause when the vote was carried.

Earlier, Taoiseach Enda Kenny said repealing the Eight is not a priority for Fine Gael.
Speaking in Castlebar, Mr Kenny said the issue of abortion was not a matter he wanted to see kicked around like a political football.
He said the Labour Party was perfectly entitled to consider issues that members felt were important.
He said it was his view that any constitutional change in this regard needed to be considered very carefully, as the issue of abortion was a matter of the most sensitive, personal and serious consequence.
The Taoiseach said Fine Gael would look at these matters in time.
A number of motions relating to social protection, including a complete overhaul of the social welfare system in relation to self-employed people and a reinstatement of the full adult rate of jobseekers' allowance for all claimants over the age of 18 and below the age of 26, have been passed.
Delegates also voted for a motion suggesting that the Christmas Bonus for pensioners be increased to 100% in the next budget.
A motion calling for the abolition of the License fee has been withdrawn at the Labour party conference following a request from Minister for Communications Alex White.
The motion put down by the Newport/Ballina Branch in Tipperary suggested that RTÉ get funding through advertising and "other means".
However, Mr White said while he understood and respected he motion, he said if there was a proper public broadcast charge, "it could be less than €160".
He appealed for the motion to be withdrawn, and he said he'd consider the view of the branch.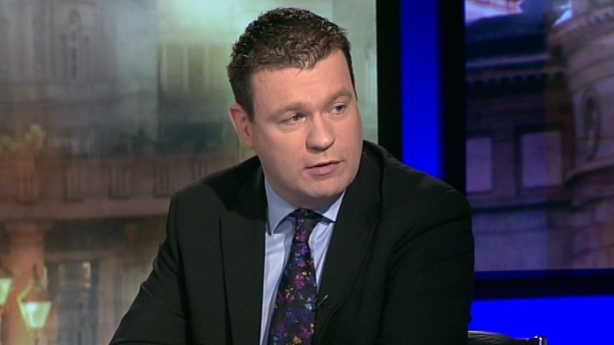 Earlier, Minister for the Environment Alan Kelly said radical water protesters are false revolutionaries promising a free Utopian society that doesn't exist.
Speaking ahead of the convention, Mr Kelly said there are many genuine protesters, but "there is also a small amount of people who want some form of Utopian society where you can get everything for nothing, and that society doesn't exist.
"These people are false revolutionaries who believe in leading people up to the top of the hill and then they'll blatantly abandon them, like they have done on many issues before, and leave people with bills or leave people in vulnerable situations potentially - who knows.
"False promises where you can create a Utopian society where everything is free and everything is for nothing simply doesn't exist.
"We all have to make our contribution to society and that goes for everybody in whatever way they can. Some people unfortunately find themselves in situations where they can't, but outside of that everyone, I think, has a role in society and has to take part in some capacity in that society.
"Unfortunately there is a small, small band of people who believe that they don't have to be part of that, they don't have to make a contribution, and certainly they are not the type of people I want to represent and they are certainly not the type of people I feel the Labour party is here to represent," said Mr Kelly.
FG-Labour voting pact likely ahead of election
Meanwhile, Mr Kelly said a voting pact between Fine Gael and Labour is likely in the run-up to the next election.
He said a voting pact between the Government parties was a "natural inclination", but that discussions would have to happen at some stage.
"From electoral terms there is a natural inclination from Labour and Fine Gael supporters to transfer to one another, given the fact that we have come through so much as a Government," Mr Kelly said.
He added discussions could happen at some stage on a voting pact or a transfer pact, but he stressed Labour would contest the election as an independent party.
Mr Kelly also emphasised it was very early for any general election speculation, because it is over a year away.
"14 months is an eternity in politics ... The people will have a choice. They will have a choice in 14 months between stability and chaos and I am urging them to chose stability and return this Government," Mr Kelly said.