The death toll has risen to 65 after a ferry accident in central Bangladesh.
The overcrowded boat sank within minutes of colliding with a cargo vessel.
A salvage vessel fitted with a crane raised the sunken ferry from the water, allowing the divers from the navy and fire department to search inside the small two-deck boat.
Rescue workers recovered 24 more bodies a day after the collision on the Padma river, which is one of the largest in the delta nation.
The toll will rise further as the rescue workers could only search one part of the MV Mostofa boat.
The sinking is the second deadly boat accident in a fortnight in the country, which has a history of ferry tragedies.
The government ordered a probe into the accident but the shipping minister said the collision occurred as the boat was "in a race" with other vessels.
Officials said they did not know the exact number of people missing, but passengers said between 70 to 150 people had been on board.
A local police chief said 50 of those swam ashore or were rescued by other vessels.
Survivors said the MV Mostofa was overcrowded with passengers crammed into the upper and lower decks, leaving them scrambling to find their loved ones when the crash happened.
"I was holding my mother's hand when the cargo boat hit our ferry from behind," one survivor said.
"Within two minutes the ferry was sunk. Before I realised I was washed away to the middle of the river.
"I swam and a ferry rescued me. But I don't know what happened to my mum."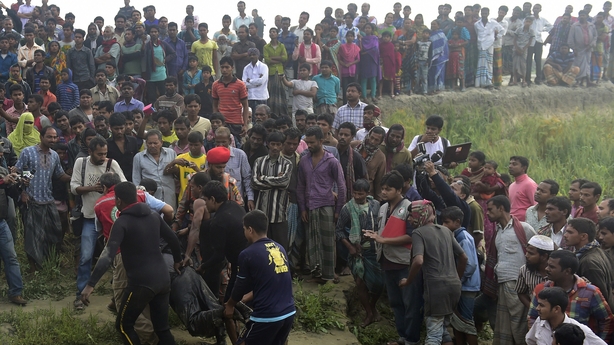 Boat accidents are common in Bangladesh, one of Asia's poorest nations, which is criss-crossed by more than 230 rivers.
Boats are the main form of travel in remote rural areas, especially in the south and northeast.
Experts blame poorly maintained vessels, flaws in design and overcrowding for most of the tragedies.
Ferries do not normally keep passenger lists, making it difficult to establish how many are missing after an accident.