Eddie Redmayne and Julianne Moore won the Best Actor and Actress awards at the 87th Academy Awards last night, while 'Birdman' was crowned Best Picture.
Redmayne won the Best Actor award for his portrayal of physicist Stephen Hawking in 'The Theory of Everything', while Moore plays a university professor with Alzheimer's disease in 'Still Alice'.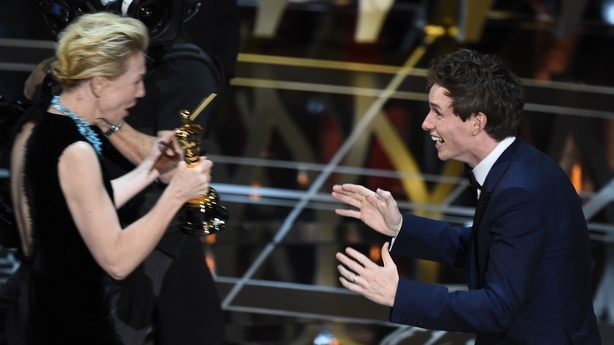 Redmayne spent seven months preparing to play Hawking, mastering his physical decline into almost total paralysis as well as his dry wit, mischievous glint and lady's man charm.
Hawking gave his blessing to the film, which is based on the memoir of his first wife, Jane.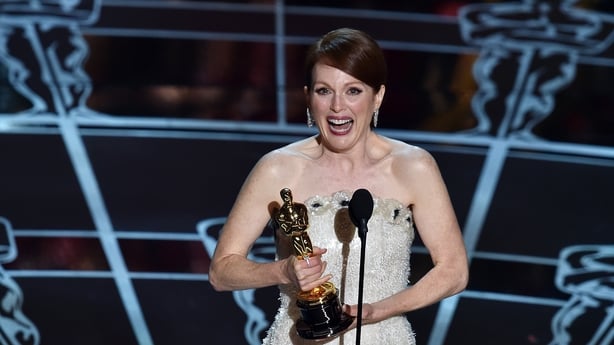 'Still Alice', which sees early-onset Alzheimer's portrayed from the point of the view of the patient, was adapted from the novel of the same name by Lisa Genova.
The win was Moore's first after four previous nominations. In an uplifting acceptance speech she thanked the Academy, based on the fact that she read winning an Oscar could lead to her living five years longer.
Both Redmayne and Moore dedicated their wins to those struggling with motor neuron disease and Alzheimer's respectively.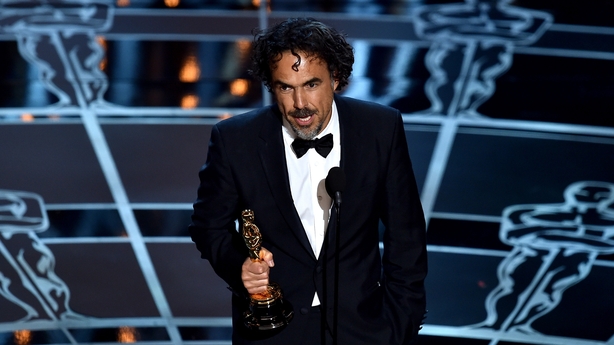 'Birdman' scooped the two big awards - Best Picture and Best Director for Mexican filmmaker Alejandro Inarritu.
The dark, satirical look at the world of show business led the way with four awards in total, also winnng in the Cinematography and Best Original Screenplay categories.
'The Grand Budapest Hotel' also finished with four awards, picking up gongs for Costume Design, Make up/Hairstyling, Original Score and Production Design.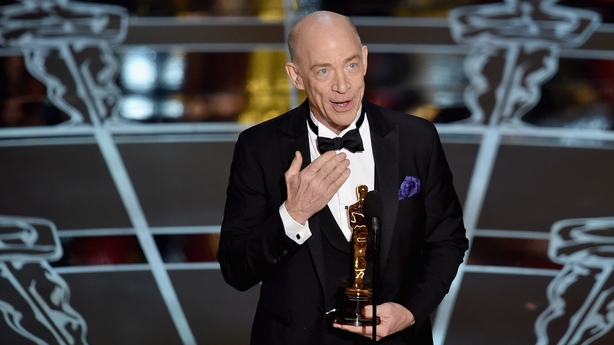 The first major award of the night went to J K Simmons, with the veteran actor winning in the Best Supporting Actor category for his role as a music teacher in 'Whiplash'.
Simmons thanked his wife and children for their support, using his speech to encourage those at home to get in touch with their parents.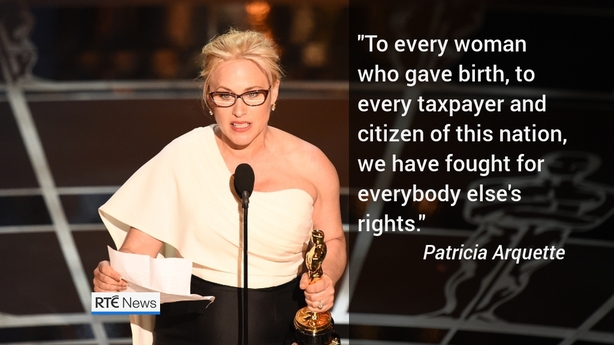 Patricia Arquette took the Best Supporting Actress award for her role as a mother struggling to raise two children in the movie 'Boyhood'.
It was the first Oscar win for Arquette, and comes after spending 12 years filming 'Boyhood'.
In her acceptance speech she called for equality, saying, "It's our time to have wage equality once and for all and equal rights for women in the United States of America."
Disney's 'Big Hero 6' won the Best Animated Feature category, ruining the hopes of Kilkenny-made 'Song of the Sea', which was made by the Cartoon Saloon design studio.
Big Hero 6 team told me the best part of the week was not the award but meeting people like Cartoon Saloon's team of creators #Oscars2015

— RTÉ TEN (@RTE_TEN) February 23, 2015
'Boogaloo and Graham', the other Irish film nominated, was unsuccessful in the Live Action Short category, which was won by 'The Phone Call'.
There was one Irish success however as Annie Atkins was involved in the successful production design team for 'The Grand Budapest Hotel'.
@cmcdermott @roemcdermott Irish mother, Irish citizen, Welsh born i.e. more Irish than Daniel Day Lewis, less Irish than Daniel O'Donnell ;)

— Annie Atkins (@AnnieAtkins) February 23, 2015
The other award in the writing section, for Best Adapted Screenplay, went to 'The Imitation Game'.
'Whiplash' picked up awards for Sound Mixing and Film Editing to go along with Simmon's Best Supporting Actor award.
'Interstellar', directed by Christopher Nolan, won the award for Visual Effects, while 'American Sniper' came out on top in the Sound Editing section.
Other winners include Polish film 'Ida' in the Foreign Language Film category and 'Feast', which was named best Animated Short Film.
'Citizenfour', about Edward Snowden, the former US government security contractor who revealed widespread surveillance of citizens, won the best documentary feature award.
Host Neil Patrick Harris, of 'How I Met Your Mother fame', joked that Snowden could not be present "for some treason".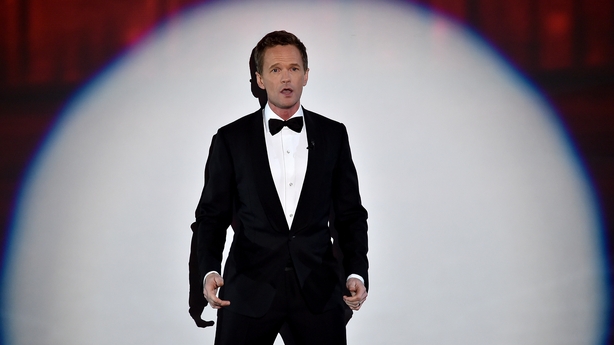 Harris also kicked off proceedings with a humorous nod towards the lack of diversity among nominees in the acting categories.
"Tonight we honour Hollywood's best and whitest, I mean brightest," Harris said before setting off on a song-filled journey through Oscar and motion picture history.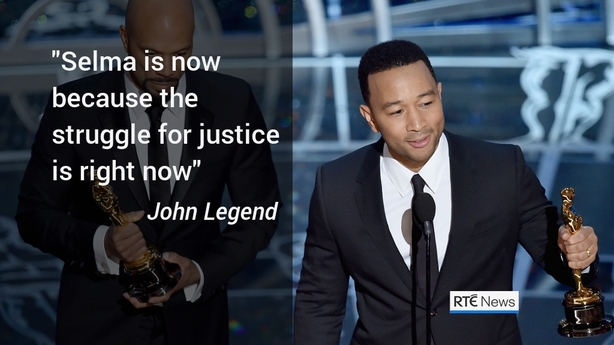 The race theme resonated in a more serious way when Lonnie Lynn and John Stephens - better known as rapper Common and singer John Legend - performed their song Glory, from civil rights drama 'Selma', which won Best Original Song.
It was the sole award for 'Selma', which was at the centre of the diversity debate.
Other performances on the night included Everything is Awesome from 'The Lego Movie', as well as numbers from Maroon 5, Rita Ora, Lady Gaga and Jennifer Hudson.
Eight movies were vying to win Best Picture, with each going away with at least one award.
However, it was a disappointing night for the hotly-tipped 'Boyhood', with Arquette's best actress win its sole award from six nominations.
Check out the winners from #Oscars2015 and watch on @RTE2 tonight from 9:00pm: http://t.co/6TkJGnlXFW

— RTÉ TEN (@RTE_TEN) February 23, 2015
View more images from the ceremony here.
The full list of winners is:
Best Picture: Birdman
Best Director: Alejandro Gonzalez Inarritu, Birdman
Best Actor: Eddie Redmayne, The Theory of Everything
Best Actress: Julianne Moore, Still Alice
Best Supporting Actor: J.K. Simmons, Whiplash
Best Supporting Actress: Patricia Arquette, Boyhood
Best Original Screenplay: Birdman
Best Adapted Screenplay: The Imitation Game
Best Foreign Language Film: Ida (Poland)
Best Animated Film: Big Hero 6
Best Documentary Feature: Citizenfour
Best Cinematography: Emmanuel Lubezki, Birdman
Best Original Song: Glory (from Selma)
Best Original Soundtrack: Alexandre Desplat, The Grand Budapest Hotel
Best Costume Design: The Grand Budapest Hotel
Best Make up/Hairstyling: The Grand Budapest Hotel
Best Production Design: The Grand Budapest Hotel
Best Documentary Short Subject: Crisis Hotline: Veterans Press 1
Best Live Action Short Film: The Phone Call
Best Animated Short Film: Feast
Best Film Editing: Whiplash
Best Sound Mixing: Whiplash
Best Sound Editing: American Sniper
Best Visual Effects: Interstellar