Several hundred people have attended a meeting in Galway to oppose plans for a new road infrastructure through the city.
Residents say there has been no consultation and no consideration by planners in the latest attempt to deal with traffic congestion in the city.
It is estimated that 80,000 cars cross the city each day.
The existing road infrastructure means eastbound motorists from Connemara have to travel through Galway city to continue on their journeys.
After a proposal to construct a bypass was blocked on environmental grounds by the European Court of Justice in 2013, planners looked at other options.
The two local authorities, in conjunction with the NRA, announced six possible routes in recent weeks.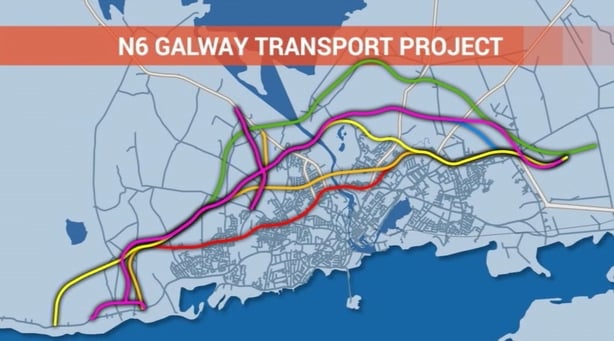 They all run closer to the city than the blocked outer bypass and pass through more densely populated areas.
Those opposed to the plans say they would split communities and dramatically alter the urban landscape.
The group that called tonight's meeting wants a unified campaign of opposition.
N6 Action Group spokesman Colman Collins wants the existing plans scrapped and a fresh round of consultations with locals across the city.
Many of those at the meeting called on politicians to impress upon the Government the scale of their opposition.
There were several suggestions regarding alternative options, including widening existing bridges, enhancing public transport and utilising existing routes to greater effect.
The local authorities say they will continue to consider the existing options, which include a mix of new river crossings, tunnels and overpasses.
They hope a preferred solution will be arrived at by the end of the year, with a view towards lodging a planning application with An Bord Pleanála early in 2016.