US President Barack Obama's administration has delayed implementing his unilateral steps to shield millions of illegal immigrants from deportation.
The move came after a judge blocked the actions at the urging of 26 states accusing Mr Obama of exceeding his powers.
In a setback to the president, US District Judge Andrew Hanen in Brownsville, Texas issued a temporary court order stopping Mr Obama's executive actions that bypassed a gridlocked Congress.

Judge Hanen's action left in disarray US policy toward the roughly 11 million people in the country illegally.

Mr Obama said he disagreed with the ruling and expected his administration to prevail once the issue made its way through the courts.

"The law is on our side and history is on our side," Mr Obama told reporters in the Oval Office.


The president said the administration will comply with the judge's order and delay accepting applications from some of the illegal immigrants for deportation relief and work permits that had been set to begin tomorrow.

"We will be prepared to implement this fully as soon as the legal issues get resolved," Mr Obama said.
He urged Congress to pass legislation to reform the US immigration system more broadly.

Mr Obama said the Justice Department will appeal Judge Hanen's preliminary injunction to the majority conservative 5th US Circuit Court of Appeals in New Orleans.
Judge Hanen has previously issued other opinions critical of the Mr Obama administration's enforcement of immigration laws.

Judge Hanen's preliminary injunction is not a ruling on the merits of the lawsuit filed by 26 states, led by Republican bastions such as Texas.

The judge issued his opinion amid a fight in the Republican-led US Congress over legislation passed by the House of Representatives to allow funding for the Department of Homeland Security only if Mr Obama's immigration actions were nullified.
The department is charged with securing US borders, airports and coastal waters.

Neither Republicans nor Democrats showed signs of backing down, especially with the court order being a preliminary one.

The judge hemmed in Mr Obama's exertion of executive power on 20 November that has drawn the ire of Republican elected officials who say he exceeded his constitutional authority.

"President Mr Obama abdicated his responsibility to uphold the United States Constitution when he attempted to circumvent the laws passed by Congress via executive fiat, and Judge Hanen's decision rightly stops the president's overreach in its tracks," said Republican Texas Governor Greg Abbott.

Mr Obama's executive orders would let up to 4.7 million illegal immigrants stay without threat of deportation.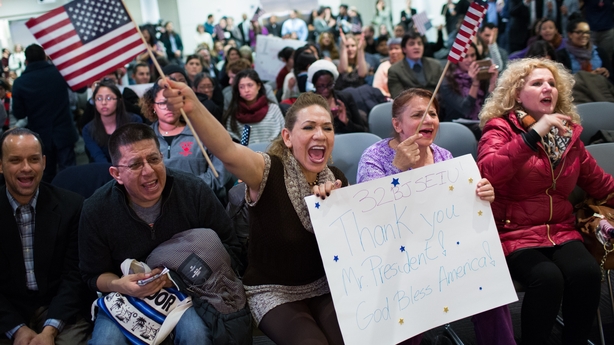 It was aimed mainly at helping 4.4 million people whose children are US citizens or legal permanent residents.

About 270,000 people would be able to stay under the expansion of a 2012 program that offered deportation relief to people brought illegally to the United States as children, allowing them work. That expansion had been set to begin tomorrow.

Immigration lawyers said many applicants for deportation relief under Mr Obama's order had already filed paperwork and the required $465 fee ahead of the beginning of the first stage of the executive action.
They now must decide whether to withdraw their applications and be refunded, or continue in hopes the injunction is overturned.

Mr Obama's administration billed his moves as the biggest immigration policy shift since 1986 changes passed under President Ronald Reagan.
Immigration policy is certain to become an important topic in the 2016 presidential campaign.

Most of the illegal immigrants in the United States come from Mexico and other Latin American countries.
Guatamala, Honduras, El Salvador and Mexico said they were disappointed with the Texas judge's order.

Mexico's Foreign Ministry said Mr Obama's moves provided "a just migration solution for millions of families and could reinforce the significant contributions of Mexican migrants to the American economy and society".