Egypt's military carried out an air strike against Islamic State group targets in Libya at dawn.
It comes a day after the group released a video appearing to show the beheading of 21 Egyptian Christians there.
The attack were said to be focused on Islamic State camps, training sites and weapons storage areas across Egypt's border in Libya, where Islamist militants have thrived amid chaos.
Forces loyal to the Libyan government also took part in the co-ordinated bombing of targets in the east of the country, which they say killed between 40 and 50 militants.
Commander Saqer al-Joroushi said more strikes will be carried out later today and tomorrow.
However, Libya's Tripoli-based parliament has strongly condemned the airstrike, which they have called an assault on Libyan sovereignty.
Egyptian President Abdel Fattah al-Sisi had warned that his country would respond to the deaths as it saw fit.
Islamic State prepared for prolonged conflict
Speaking on national television hours after the release of the video, Mr Sisi said Cairo would choose the "necessary means and timing to avenge the criminal killings".
Egypt's state news agency MENA quoted the spokesman for the Coptic Church as confirming that 21 Egyptian Christians believed to be held by Islamic State were dead.
The beheadings could stiffen Mr Sisi's resolve in dealing with security threats from militants thriving in neighbouring Libya's chaos who want to topple his US-backed government.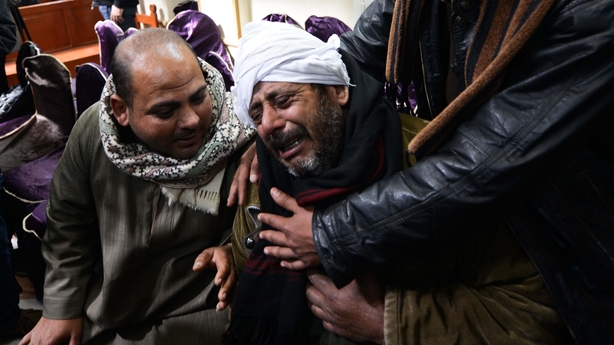 Egypt has denied reports in the past that it had taken part, along with its close ally the United Arab Emirates, in air strikes against militants based in Libya.
The footage showing the deaths of the Egyptians appeared on the Twitter feed of a website that supports Islamic State, which has seized parts of Iraq and Syria and has also beheaded Western hostages.
In the video, militants in black marched the captives, dressed in orange jump suits, to a beach the group said was near Tripoli.
They were forced down onto their knees, then beheaded.
A caption on the five-minute video read: "The people of the cross, followers of the hostile Egyptian church."
Before the killings, one of the militants stood with a knife in his hand and said: "Safety for you crusaders is something you can only wish for."
Thousands of Egyptians desperate for work have travelled to Libya since an uprising at home in 2011, despite advice from their government not to go to a country sliding into lawlessness.
Mr Sisi has called for a seven-day mourning period.
France and Egypt have urged the UN Security Council to meet and mull fresh measures against Islamic State jihadists.
The UN Security Council has condemned the apparent beheadings of the 21 Egyptian Christians as "heinous and cowardly", and urged member states to "combat by all means" such threats to international peace.
UN Secretary General Ban Ki-moon also denounced the killings.
Minister for Foreign Affairs Charlie Flanagan said the beheadings were a "monstrous act beyond comprehension, which must be condemned in the strongest possible terms".
He added: "Ireland has repeatedly recalled the duty of States to protect vulnerable minorities in the Middle East, including Christian communities.
"I reiterate that call and will be raising this with my EU colleagues at the earliest opportunity."