Talks between Greece and eurozone finance ministers over the country's debt broke down this evening when Greece rejected a proposal to request a six-month extension of its international bailout as "unacceptable".
              
The unexpectedly rapid collapse raised doubts about Greece's future in the single currency area.
Its new leftist-led government has vowed to scrap the €240bn bailout, reverse austerity policies and end cooperation with EU/IMF inspectors.
              
Dutch Finance Minister and Eurogroup President Jeroen Dijsselbloem, who chaired the meeting, said Greece had until Friday to request an extension, otherwise the bailout would expire at the end of the month.
              
How long Greece can keep itself afloat without international support is uncertain. 
The European Central Bank will decide on Wednesday whether to maintain emergency lending to Greek banks that are bleeding deposits at an estimated rate of €2bn a week.
"The general feeling in the Eurogroup is still that the best way forward would be for the Greek authorities to seek an extension of the programme," Mr Dijsselbloem told a news conference.
              
Greek Finance Minister Yanis Varoufakis hit back, complaining that Mr Dijsselbloem had refused to discuss a proposal from the executive European Commission that would have given Greece a four-month breathing space in return for the new government holding off on major policy changes.
              
He sought to play down the setback as a temporary hitch rather than an impasse.
              
"I have no doubt that within the next 48 hours Europe is going to come together and we shall find the phrasing that is necessary so that we can submit it and move on to do the real work that is necessary," Mr Varoufakis told a news conference.
              
Mr Varoufakis said he rebuffed a draft statement put to him by Mr Dijsselbloem as the meeting got under way. 
In comments thata ppeared aimed at playing on divisions among European officials, he said he would have signed a text put to him before the meeting by Pierre Moscovici, the EU's economics commissioner.
              
The talks, which had been expected to last late into the night, collapsed in less than four hours.
              
Both sides showed signs of fraying patience, with several ministers complaining of disappointment and fearing disaster.
Mr Dijsselbloem spoke of a need to rebuild trust and Greek officials grumbled that Mr Varoufakis was presented with an unacceptable text as soon as he walked into the room.
              
Mr Dijsselbloem pleaded with the Greeks to buy themselves time to discuss the way forward calmly by requesting an extension.
              
But he also said: "Would a new programme look very different? I don't think so. The rules and regulations talk about strict conditionalities. It would still be about fiscal sustainability."
              
Germany, the eurozone's main paymaster and Greece's biggest creditor, stuck to its hard line.
              
German Finance Minister Wolfgang Schaeuble said before the talks that Greece had lived beyond its means for a long time and there was no appetite in Europe for giving it any more money without guarantees it was getting its finances in order.
              
As the meeting in Brussels broke up, a senior Greek banker said Greece's stance boded ill for the markets and the banks.
              
"It is a very negative development for the economy and the banks. The outflows will continue. We are losing 400-500 million every day and that means about 2 billion every week.
"We will have pressure on stocks and bond yields tomorrow," he said.
              
Mr Varoufakis earlier spelled out in a combative New York Times article Greece's refusal to be treated as a "debt colony" subjected to "the greatest austerity for the most depressed economy".
              
"The lines that we have presented as red will not be crossed," he said.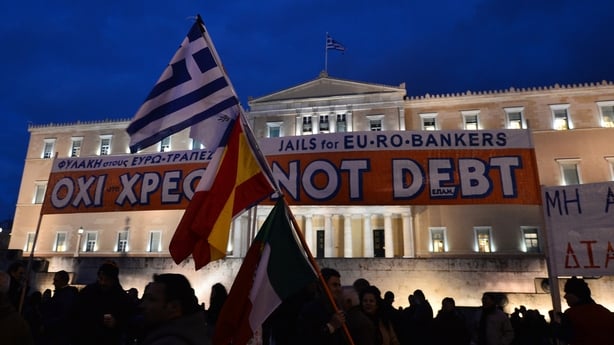 An opinion poll showed 68% of Greeks want a "fair" compromise with eurozone partners while 30% said the government should stand tough even if it means reverting to the drachma currency. 
The poll found 81% want to stay in the euro.
Earlier, Minister for Finance Michael Noonan said it was up to the Greek finance minister to come forward with specific proposals on how to break the impasse over the country's future financing needs.
Last week, ministers failed to reach agreement with the new far-left Greek government on whether or not to extend the country's €240bn bailout at the end of this month.
"The ball is back in the Greek court to explain to the rest of us what it is exactly that they're looking for," Mr Noonan said. 
Michael Noonan has laughed off the after effects of an eye procedure, saying he is imitating Johnny Sexton. https://t.co/3RK56fRKvm

— RTÉ News (@rtenews) February 16, 2015
Mr Noonan, who has a bad black eye after undergoing a procedure over the weekend, said he "wouldn't rule out" a scenario where an extension to the current bailout was agreed, with a new programme for Greece being negotiated "sometime at the beginning of the summer".