A boy who died following a school playground incident had a very bright future, a priest told mourners at his funeral.
Oisin McGrath, 13, was a pupil at St Michael's College in Enniskillen, Co Fermanagh, and was hurt while playing football during his lunch break almost a week ago.
His organs were donated to save five lives after he died in hospital in Belfast on Thursday.
School friends formed a guard of honour as the coffin was carried into St Patrick's Church in Holywell near Belcoo.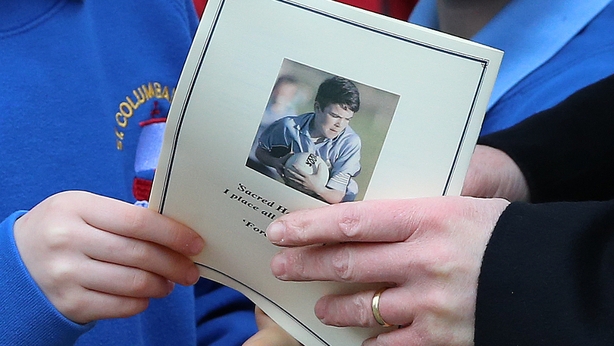 Fr Seamus Quinn read out Oisin's last primary school report which said: "I have no doubt he has a very bright future ahead of him."
Fr Quinn said Oisin had just decided to become a professional sportsman, having played GAA for his school and village club while also competing in cross-country running and soccer.
Hundreds of classmates lined the route and Oisin's coffin was carried into the church with a GAA jersey on top.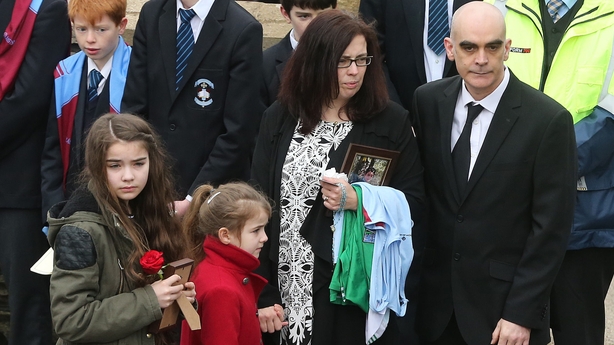 Oisin's mother Sharon, father Nigel and younger sisters Ciana and Cairen led mourners. Those who could not get into the packed church watched on a large screen outside.
Fellow pupils of the Year 9 student wore GAA jerseys draped over school uniforms.
Two floral wreaths depicted a football and GAA jersey in tribute to the promising young sportsman's talent.
The school choir sang 'Together, Together, the Children of God' as he was brought into the church.
Fr Quinn said: "Oisin was also gifted with a lovely personality, a great sense of humour, was a natural communicator and always willing to help others.
"Oisin was a natural, unaffected young lad. He was quiet and easy to be with, with the kind of smile that drew the best out of you, whether you were young or old.
"While Oisin was a leader, he was not at all an egotist.
"He wasn't in love with the position of leader and, in fact, Oisin would always take time and make place for people who might not have found it as easy to achieve as he did himself.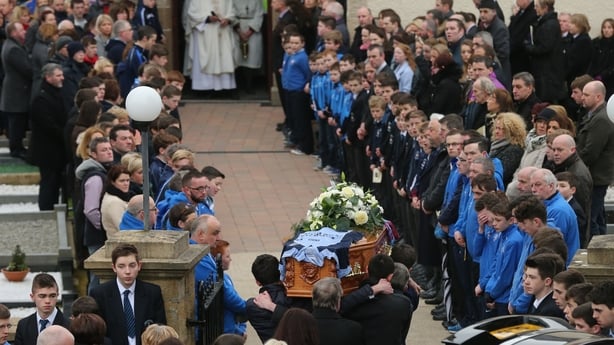 "He had the ability to found friendships with those who didn't share his own passions and interests. He was a people person."
The priest said the grief of his young classmates from St Michael's and fellow team mates from sport said more than any adult could ever get across.
"Indeed Liam Magee, the principal of St Columban's, the local primary school, remarked to his parents when Oisin was leaving that 'he could almost run the school' such was his helpful manner and personality in his time there."
Oisin was buried in the adjoining cemetery.