The chairman of a new responsible drinking campaign funded by a drinks company says that if it is not independent it is not going to happen.
Barnardos chief executive Fergus Finlay said he was sceptical when he was approached by Diageo to work on its Stop Out-of-Control Drinking campaign.
However, he said that the group had a written memorandum of understanding from Diageo that it could act independently.
He said the campaign expected to spend about €1m in the first year on advertising, meetings and a digital campaign.
Mr Finlay said it hopes to achieve the same shift in attitude as the one that has happened in relation to drink driving.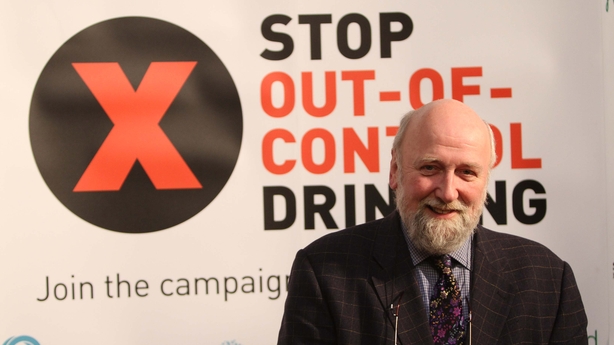 The aim is to build a "people's campaign" to make out-of-control drinking an unacceptable part of Irish culture by 2021. The plan will be published this summer.
However, social campaigner Ruairi McKiernan said the campaign did not have credibility because of the involvement of the drinks industry.
Mr McKiernan, who is involved in a number of youth organisations, said it was the latest attempt by Diageo to make the public "feel warm and fuzzy about them".
He said he was surprised that Mr Finlay had become involved with the campaign.
He described it as very confusing and disappointing.
Mr Finlay said: "Out-of-control drinking is a serious issue in our society, with enormous consequences. To stop it we need to work together as a nation. We need to make a collective decision that enough is enough."
Labour Relations Commission chief executive Kieran Mulvey, who is also on the board, said that everyone was involved on a pro-bono basis with no fees or payments involved.
He said he and other board members were all known for being independent-minded people and that they would not be influenced by any decision Diageo takes.
He said he was delighted to be associated with the campaign.
The board also includes St Patrick's Hospital CEO Paul Gilligan, the National Parents Council's Aine Lynch, Diageo's David Smith and TV personalities Dr Ciara Kelly and Gavin Duffy.
It is also has the backing of celebrities such as Kian Egan, Una Foden, Ardal O'Hanlon and Eoghan McDermott
Kian Egan, former Westlife singer and coach on The Voice of Ireland, said: "I have been lucky enough to have travelled the world in my career and I can see that we are out of line in our approach to drinking.
"I would prefer my children to feel less pressure and more in control about drinking alcohol, so I am getting involved for them as well as for myself."