Eurozone finance ministers were unable to agree with Greece a final statement or a way to continue talks until their next meeting on Monday, following hours of discussions in Brussels to extend an international bailout.
"We explored a number of issues, one of which was the current programme," Jeroen Dijsselbloem, who chaired the meeting, told a news conference tonight in Brussels.
"We discussed the possibility of an extension. For some that is clear that is preferred option but we haven't come to that conclusion as yet. We will need a little more time."   
Greek Finance Minister Yanis Varoufakis had begun talks with his euro zone peers after his government won a confidence vote for its refusal to extend an international bailout.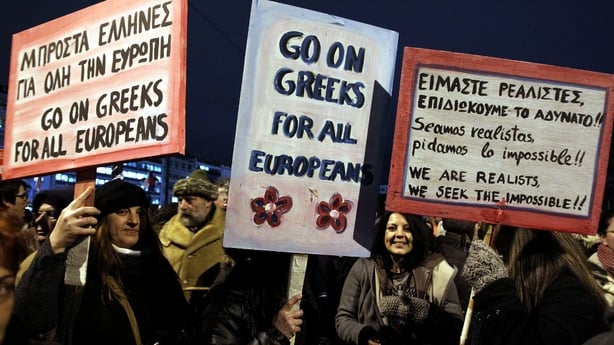 The former academic said he was ready for a clash with Germany and its allies over Greece's decision to scrap austerity measures, end cooperation with the bailout Troika and demand a "haircut" reducing its debt burden.
"If a debt can no longer be paid off then that leads to a haircut," he told a German magazine. "What is critical is that Greece's debt cannot be paid off in the near future."
German Finance Minister Wolfgang Schaeuble has said that if Greece is not willing to request an extension of its €240bn bailout - the biggest in financial history - "then that's it", ruling out further assistance or debt forgiveness.
On Tuesday, Minister for Finance Michael Noonan, who attended the meeting in Brussels, said he was pessimistic about finding a solution to the Greek debt crisis.
Addressing the Oireachtas Finance Committee, Mr Noonan said Ireland has two "red line" positions on the Greek issue - it will not support any write-down of debt, and it will not support any position that seeks to remove Greece from the euro area.
Mr Noonan said he had not had any contact with the new Greek government, and has had no communication from either Athens or the Greek Embassy in Dublin regarding the new government's plans.
Eurozone ministers said they wanted to hear Greece's ideas at a meeting in Brussels, at which Mr Varoufakis was accompanied by Deputy Prime Minister Yannis Dragasakis. 
Athens's partners warned that time was short since the bailout programme expires at the end of this month with no solution in sight so far.
Spanish Finance Minister Luis de Guindos, whose country avoided a sovereign bailout but had to take EU aid to rescue its banks, spelt out the hard line. "Rules must be respected by all. They apply to all," he told reporters on arrival in Brussels.
Mr Varoufakis had a prior meeting with International Monetary Fund chief Christine Lagarde, which both said was constructive.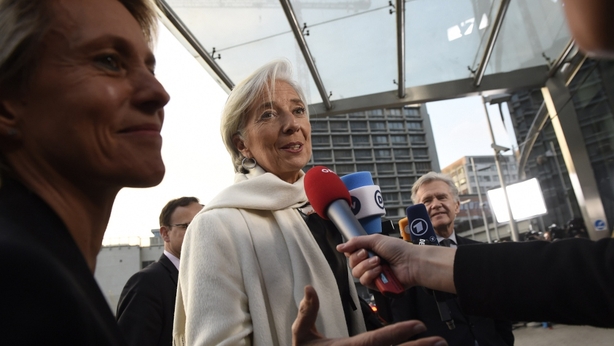 Ms Lagarde flew to Brussels to join the eurogroup meeting in a sign of the importance the IMF attaches to the Greek crisis.
"They are competent, intelligent, they've thought about their issues. We have to listen to them, we are starting to work together and it is a process that is starting and is going to last a certain time," she told reporters.
Greek bond yields rose and shares fell before the meeting, with investors concerned that failure to reach a deal in the next couple of weeks could lead to a possible Greek default and exit from the euro currency.
Asked whether a so-called 'Grexit' was on the cards, Mr Varoufakis told reporters on arrival: "Absolutely not."
Economists polled by Reuters this week estimated a one in four chance of Greece leaving the 19-nation single currency area this year - the highest reading since the start of the Greek debt crisis in late 2009.
Most analysts said the odds were on an agreement between Greece and the eurozone emerging later this month after lots of sound and fury.
"We think that the European community and Greek authorities will reach a compromise such that there will not be an exit of Greece from the euro zone," James McCormack, Global Head of Sovereign and Supranational Group at credit ratings agency Fitch Ratings, told Reuters.
European Union leaders will take up the issue at their first summit with Greek Prime Minister Alexis Tsipras tomorrow.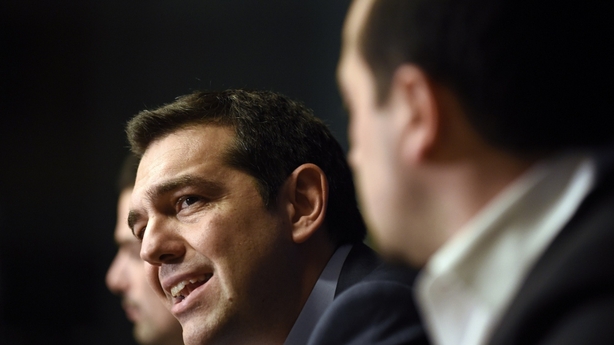 EU officials said they would be briefed on the talks but there would be no room for debt negotiation at a summit mostly devoted to the Ukraine-Russia conflict, fighting terrorism and longer-term reform of the euro zone's governance.
EU officials said a second Eurogroup meeting next Monday was likely to be the venue for the real negotiation.
Mr Tsipras struck a defiant tone in parliament late yesterday, saying that "little Greece" was changing Europe by casting off austerity.
"We are not negotiating the bailout; it was cancelled by its own failure," the leader of the hard left Syriza party declared before winning the confidence vote with the backing of 162 lawmakers in the 300-seat chamber.
At least 10,000 Greeks took to the streets of Athens and other cities today to demonstrate support for his government in the Brussels negotiations.
Smaller leftist satellite rallies were planned in Brussels, outside the European Central Bank in Frankfurt and in London.
Protesters outside parliament in central Athens unfurled banners proclaiming "Bankrupt but Free" and "Stop Austerity, Support Greece, Change Europe".
Mr Tsipras tweeted a picture of the rally, with the message: "In the cities of Greece and Europe the people are fighting the negotiation battle. They are our strength."
Earlier, he agreed to work on reforms with the Organisation for Economic Cooperation and Development, a Paris-based inter-governmental think-tank, but said they would not be imposed from outside.
OECD chief Angel Gurria appeared to endorse Mr Tsipras's criticisms of the current bailout programme after they met in Athens, saying it had produced low growth, high unemployment, rising inequality and a loss of trust.