A summit between France, Germany, Russia and Ukraine is being planned for Wednesday in Minsk, according to Berlin.
It is the latest step in a hectic diplomatic effort to find a political solution to the conflict in eastern Ukraine.
The leaders of the four countries talked by telephone today to discuss how to reach a "comprehensive settlement," a statement from the German chancellor's office said.
Diplomatic efforts will continue "with the aim of a summit in the 'Normandie' format" being held in Minsk on Wednesday, according to the statement, using the French term for the four-nation group.
German Chancellor Angela Merkel and French President Francois Hollande on Friday travelled to Moscow for crisis talks with Russian President Vladimir Putin on ending the ten-month-old conflict that has claimed about 5,400 lives.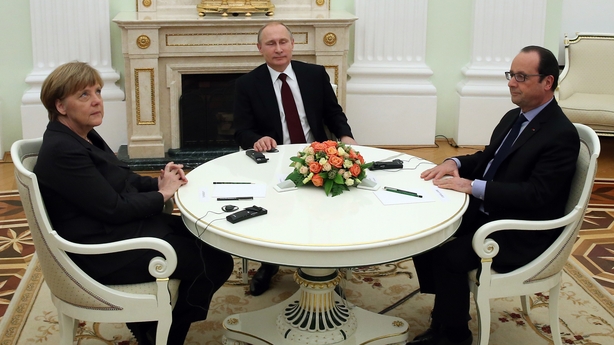 Ms Merkel then went to the Munich Security Conference where she met US Secretary John Kerry, Russian Foreign Minister Sergei Lavarov and Ukraine President Petro Poroshenko to continue work on what Mr Hollande said was "the last chance for peace".
Ms Merkel, Mr Hollande, Mr Poroshenko and Mr Putin "this morning conducted an extensive telephone conference," according to the German statement.

"They continued to work on a package of measures to achieve a comprehensive settlement of the conflict in eastern Ukraine," it said.
It added that the signatories of a failed Minsk agreement reached in September - representatives of the OSCE, Russia and Ukraine as well the separatists - "will also get together by Wednesday in Minsk".
Mr Putin said that the peace talks can take place next week if the four manage to agree on a "number of points" by then.
Mr Kerry earlier denied that a split had emerged between Washington and Europe over how to handle Russia.
It comes after leading US senators sharply criticised Germany and other countries who oppose sending arms to the Ukraine military.
"Let me assure everybody there is no division. There is no split. I hear people trying to create one," Mr Kerry told a security conference in Munich.
"We are united. We are working closely together. We all agree that this challenge will not end through military force.
"We are united in our diplomacy," he added.