Independent Socialist TD Clare Daly has criticised the Government for doing nothing to address the issue of women carrying their pregnancy to full term in cases of fatal foetal abnormalities.
She was speaking as she moved a bill to allow terminations in such cases.
Ms Daly said the option of doing nothing was not good enough and appealed to Government TDs to support the bill.
She also said that women who want to carry a pregnancy to full term are not affected by her bill.
But in relation to those who do not want to do so, she said it was barbaric, cruel, degrading treatment and she described it as torture.
She noted that some Labour Party TDs had circulated a letter on the issue three years ago.
She said no one had come up with a moral argument to oppose the bill.
She also dismissed the Government's position that the bill is unconstitutional.
She said they do not know if it is constitutional and added an attorney general can be wrong. She said it would have to be tested.
She questioned whether a referendum on the age of presidential election candidates was more important than this issue.
She said the bill should be tested in the courts.
Fine Gael's Olivia Mitchell said it was incomprehensible that people are forced to carry pregnancies to full term in such cases.
She said this issue cannot be seen as abortion on demand.
She said she shared the frustration of Ms Daly but questioned the way she was addressing it as it would have to be tested in the courts.
Independent TD Mick Wallace said it was 'horses***' that the Government did not have a mandate to legislate for this.
He said it did not have a mandate to do other things.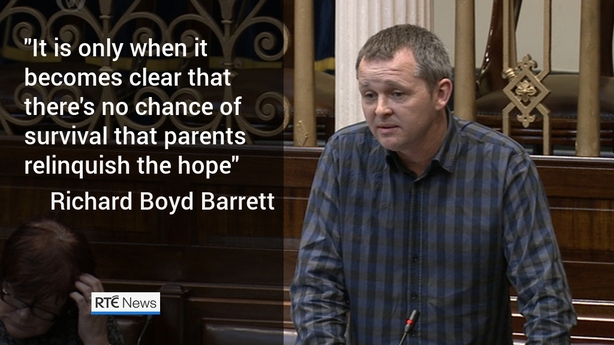 People Before Profit TD Richard Boyd Barrett gave a personal insight in his.
He spoke about his daughter who died 13 years ago, who he said "had a condition incompatible with life".
He said he and his wife went to "the ends of the earth" to see if his daughter Ella could be saved.
"It is only when it becomes clear that there's no chance of survival, that parents relinquish the hope", he said.
Constitutional protections for life don't come into it, he said, adding: "It's a tragedy whatever way you look at it."
He said it is also tragedy for siblings, saying his children "miss their sister every day". He said she was "a victim of the cruelty of nature, something we can't control".
The only question before the house he said was about in some way not alleviating or compounding the terrible tragedy of losing a wanted child.
He appealed to TDs to vote for the bill.
Minister for Health Leo Varadkar said he could not support the legislation proposal because the bill is "unconstitutional" and a referendum would be required to amend the Constitution so that the legislation as outlined by Deputy Daly could be introduced.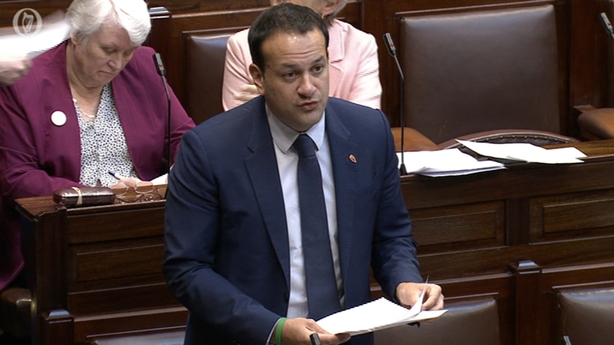 However, he said he believed it was a matter "we should deal with in the next Dáil" and the Constitutional Convention could have a role in this.
He told the Dáil that the Government has "no electoral mandate to hold a referendum on abortion and no consensus on what form any amendment should take".
The minister said there was only one commitment in relation to abortion in the Programme for Government and that was to examine the A, B, C versus Ireland case and make recommendations on how the matter should be properly addressed.
He said this undertaking "has been fulfilled through the Protection of Life During Pregnancy Act 2012".
Sinn Féin's Brian Stanley said irrespective of his personal opinion, the party is abstaining on the bill as a motion will be put to the party's Ard Fheis on the issue.
He said the party had not concluded discussions on the issue.
He said it must assure that its policies are reflective of the party.
The bill will be voted on on Tuesday.