Taiwanese rescue officials still hope to find 12 people missing more than 24 hours after a TransAsia Airways plane crashed into a Taipei river, killing at least 31.             
Flight GE235, carrying 58 passengers and crew, swung between buildings, clipped a taxi and an overpass with one of its wings and crashed upside down.
It landed in shallow water shortly after take-off from a downtown Taipei airport yesterday.             
"We have not found survivors or bodies of the 12 missing, but we will not give up. We'll continue to search," said Yeh Chun-hsing, an official with Taipei's fire department.             
Taiwan's Civil Aeronautics Administration (CAA) said there were 15 known survivors.
Sixteen of those killed were from among a group of 31 Chinese tourists, most from the southeastern city of Xiamen, it said.
Three Chinese passengers were rescued.             
The pilot and co-pilot of the almost-new turboprop ATR72-600 were among those killed, the CAA said.
TransAsia identified the pilot as 42-year-old Liao Chien-tsung.             
Dramatic pictures captured by a passing motorist showed the plane careening over an overpass, its nose up as its port-side wing struck the taxi and roadway just metres from passing cars.

Taiwanese media reported that it appeared Mr Liao had fought desperately to steer his stricken aircraft between apartment blocks and commercial buildings close to Taipei's Songshan airport before crashing into the river.
The head of Taiwan's CAA, Lin Tyh-ming, has said Mr Liao had 4,916 flying hours under his belt and the co-pilot 6,922 hours.             
Taiwanese media reported that Mr Liao, the son of street vendors, passed exams to join the air force. He later flew for China Airlines, Taiwan's main carrier, before joining TransAsia.
The CAA, Taiwan's aviation regulator, ordered TransAsia and Uni Air, a subsidiary of EVA Airways Corp, to conduct engine and fuel system checks on the remaining 22 ATR aircraft they still operate.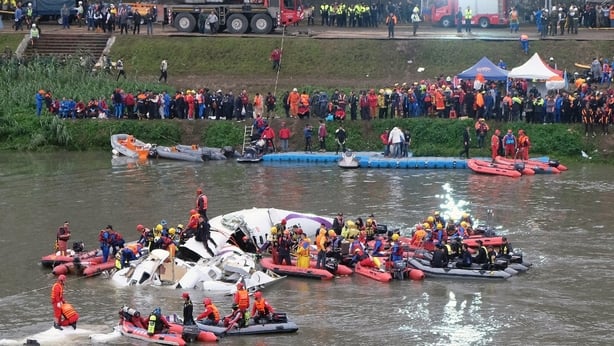 The crash was the latest in a string of aviation disasters in Asia in the past 12 months and TransAsia's second in the past seven months.
Macau's Civil Aviation Authority said the engines of the plane had been replaced at Macau Airport on 19 April last year, during its delivery flight, "due to engine-related technical issues".
It said the engines were replaced by TransAsia engineers and the plane left Macau airport two days later.
Lin from Taiwan's CAA said the aircraft last underwent maintenance on 26 January.
The plane was powered by two Pratt & Whitney PW127M engines.
Pratt & Whitney is part of United Technologies.
The last communication from one of the pilots was "Mayday engine flameout", according to an air traffic control recording on liveatc.net.
A flameout can occur when the fuel supply to an engine is interrupted or when there is faulty combustion, but twin-engined aircraft can usually keep flying with one engine.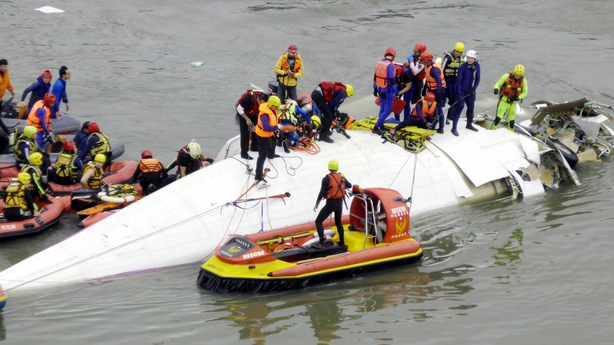 Yesterday, Taiwan officials said the plane's black box data recorder had been recovered but no information from it had been made available yet.
Taiwan's United Daily reported that a flight attendant, identified only by her surname of Huang, told her family she had crawled out of the rear of the plane and found herself in the water. "I thought I was going to die," she said.             
A TransAsia official said the airline would give the families of those killed T$1.2 million (€33,500) for funeral expenses and T$200,000 to each of the injured.
Two people on the ground were also injured, it said.
The plane was bound for the Taiwan island of Kinmen, not far from Xiamen.
TransAsia said it would fly members of the Chinese passengers' families to Taiwan.