A TransAsia Airways plane with 58 passengers and crew on board has crashed into a river shortly after taking off from a downtown Taipei airport, killing at least 31 people and leaving about 20 missing.
Fifteen people survived the crash after the plane veered between buildings, clipped an overpass with its port-side wing and crashed upside down in the shallow river.             
Dramatic pictures taken by a motorist and posted on Twitter showed the plane flying over the motorway soon after the turboprop ATR 72-600 aircraft took off in apparently clearweather on a domestic flight for the island of Kinmen.
"I've never seen anything like this. This is unprecedented," a volunteer rescuer said of the most recent in a series of disasters to hit Asian carriers in the past 12 months.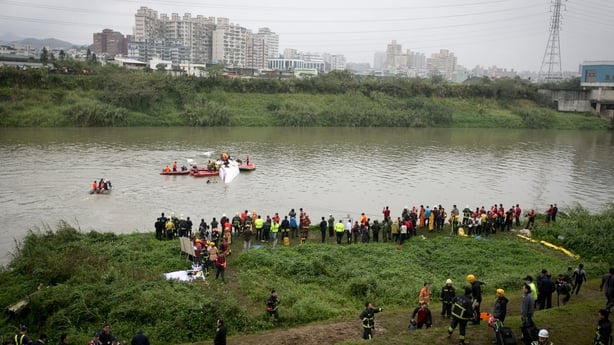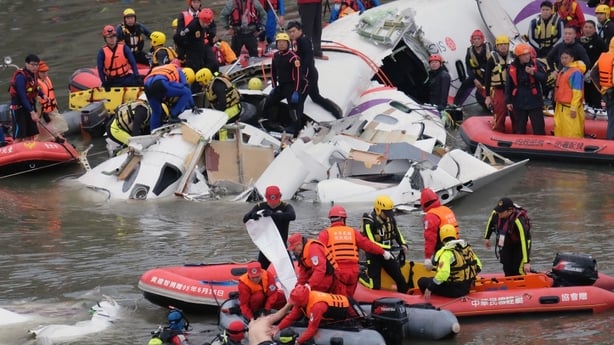 Television footage showed survivors wearing life jackets wading and swimming clear of wreckage.
Others, including a young child, were taken to shore by rescuers.
Emergency rescue officials in inflatable boats crowded around the partially submerged fuselage of flight GE235, lying on its side in the river, trying to help those on board.             
Other officials said 31 tourists from China were on the plane.   
The plane appeared to miss apartment buildings by metres.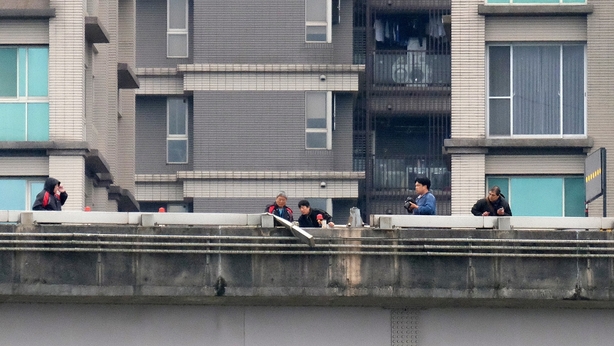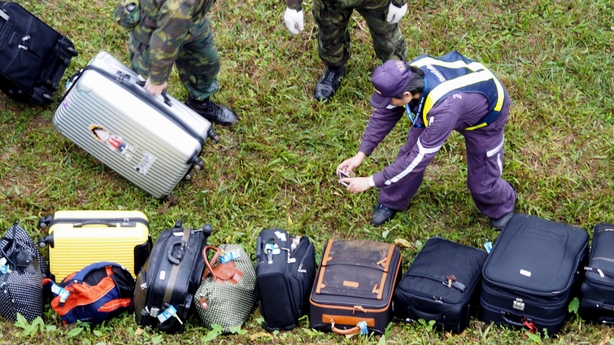 Footage showed a van skidding to a halt on the damaged overpass after barely missing the plane's wing, with small pieces of the aircraft scattered along the road.  
The chief executive of TransAsia, Peter Chen, apologised to passengers and crew at a press conference.             
Chinese Premier Li Keqiang said the government had offered any help necessary following the crash.
The last communication from one of the aircraft's pilots was "Mayday Mayday engine flameout", according to an air traffic control recording on liveatc.net.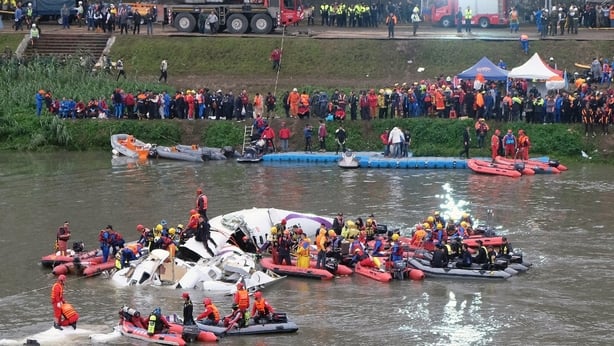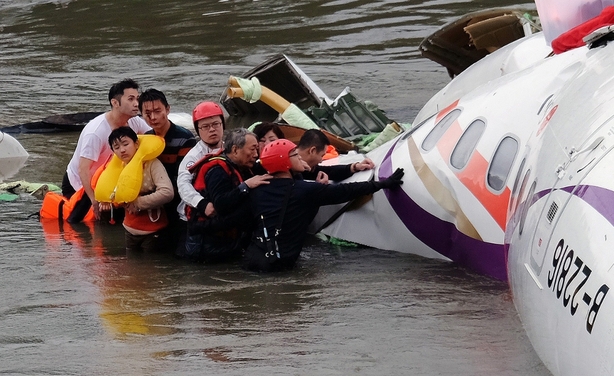 The plane was powered by two Pratt & Whitney PW127M engines.
Pratt & Whitney is part of United Technologies.             
A flameout occurs when the fuel supply to the engine is interrupted or when there is faulty combustion, resulting in an engine failure.
Twin-engined aircraft, however, are usually able to keep flying even when one engine has failed.             
The head of Taiwan's civil aviation authority, Lin Tyh-ming, said the aircraft last underwent maintenance on 26 January.
The pilot had 4,916 hours of flying hours under his belt and the co-pilot had 6,922 hours, he said.             
Taipei's downtown Songshan airport, the smaller of the city's two airports, provides mostly domestic flights but also connections to Japan, China and South Korea.             
A statement from China's Taiwan Affairs Office said 31 of those on board were tourists from the southeastern city of Xiamen, which lies close to Taiwan's Kinmen island.