The Irish Aviation Authority has confirmed two Russian military aircraft, shadowed by a number of British fighter jets, flew through Irish controlled airspace off the west coast on Wednesday.
The Russian Bear military aircraft did not enter Irish sovereign airspace and there was no risk to commercial aircraft operating in the area at the time.
The two Russian bomber planes flew along the west coast on Wednesday.
It is believed they travelled from the north, past the west coast and on to the English Channel, before turning and going back the way they had come.
The bombers did not file a flight plan and did not have their transponders switched on while in Irish airspace.
The IAA has confirmed the aircraft flew around 50 nautical miles from the Irish coast at their nearest point, but did not enter Irish sovereign airspace, 12 nautical miles from the coast.
The British Royal Airforce scrambled Typhoon fighters to escort the Russian aircraft. Russia has said the flight mission, which lasted 12 hours, was routine and dismissed concerns.
It is the latest in a series of similar incidents involving Russian aircraft in foreign airspace.
In a statement the Department of Defence said non-controlled and non-notified flight activity by Russian aircraft is not acceptable.
The department also confirmed the Russian planes did not enter Irish sovereign airspace at any time, but they were in an area for which the IAA has air traffic control responsibility.
The Irish authorities will discuss with their British counterparts how best to seek to resolve this through the International Civil Aviation Organisation.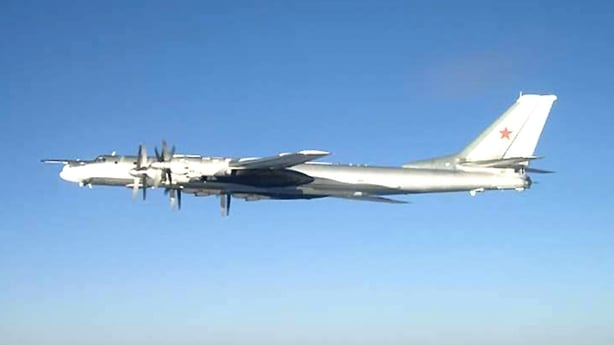 Earlier, Fianna Fáil Transport spokesperson Timmy Dooley called on Minister for Transport Paschal Donohoe to meet with British and Russian ambassadors to get a full explanation of the event.
The RAF said long-range search radars detected two Russian Tu-95 "Bears" flying close to UK airspace in the "UK flight information region".
Britain has summoned the Russian ambassador to account for the incident.