Islamic State's Egyptian wing has claimed responsibility for a series of attacks that killed at least 27 security personnel.
The attacks in North Sinai represented some of the worst anti-government violence in months.
They came as commemorations around the anniversary of the 2011 uprising turned violent.
Egypt's government faces an Islamist insurgency based in Sinai and growing discontent with what critics perceive as heavy-handed security tactics.
A series of tweets from the Sinai Province's Twitter account claimed responsibility for the attacks that took place within hours of one another last night.
Ansar Bayt al-Maqdis, Egypt's most active militant group, changed its name to Sinai Province last year after swearing allegiance to IS.
The hardline Sunni militant group has seized swathes of Iraq and Syria, drawing US-led air strikes.
Egyptian President Abdel Fattah al-Sisi has cut short a visit to the Ethiopian capital for an African Union summit following the attacks.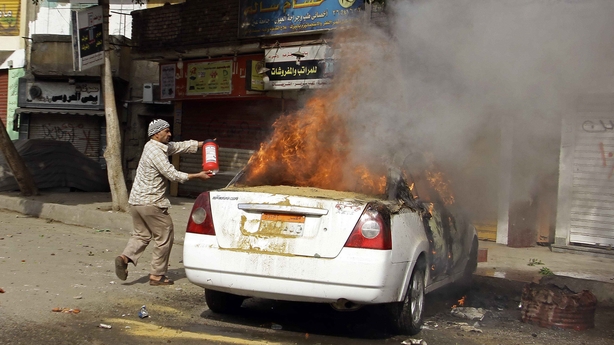 Yesterday's first attack was a bombing targeting a military headquarters, base and hotel in the capital of North Sinai province that killed 25 and wounded at least 58, including nine civilians.
Flagship government newspaper al-Ahram said its office in the city of Al-Arish, which is situated opposite the military buildings, had been "completely destroyed," although it was not clear if it had been a target.
Later, suspected militants killed an army major and wounded six others at a checkpoint in Rafah.
That was followed by a roadside bomb in Suez city that killed a police officer, and an assault on a checkpoint south of Al-Arish that wounded four soldiers.
After Sinai Province's claim of responsibility, security sources said a suspected militant had been killed while attempting to plant a bomb at a power transformer in Port Said.
The Egyptian military said in a statement on its Facebook page that the attacks were the result of a successful campaign to pressure the militants.
The US State Department has condemned the attacks.
It said: "The United States remains steadfast in its support of the Egyptian government's efforts to combat the threat of terrorism in Egypt as part of our continuing commitment to the strategic partnership between our two countries."
Minister for Foreign Affairs and Trade Charlie Flanagan has condemned the terrorist attacks.
He said: "On behalf of the Irish people, I want to express sincere condolences to the families and loved ones of those murdered and to convey our sympathy and solidarity to those wounded and to the Egyptian people."