The Opposition has described as "disproportionate" and "perverse" a decision by Ceann Comhairle Sean Barrett to block a Dáil debate after legal objections from former minister for justice Alan Shatter.
The Dáil had been due to debate the terms of reference of a proposed commission to inquire into incidents in the Cavan-Monaghan garda division recommended in a report by barrister Sean Guerin.
Mr Shatter is challenging aspects of Mr Guerin's report in the High Court. The report led to his resignation as minister last year.
Opposition members walked out of the Dáil chamber yesterday evening in protest.
Fianna Fáil leader Micheál Martin said today the Dáil was master of its own procedures.
Mr Martin said what happened was the antithesis of parliamentary democracy and he called for an urgent review of the decision.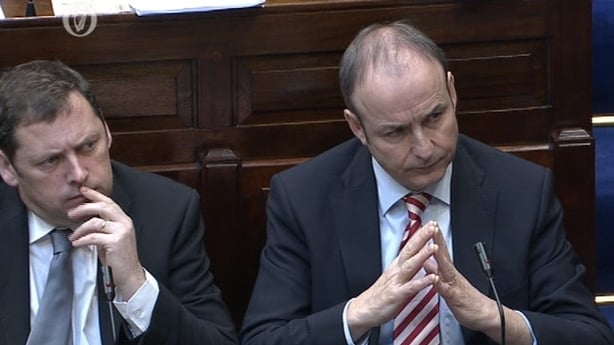 Sinn Féin's Mary Lou McDonald said it was a perverse interpretation of standing orders.
Ms McDonald said it was extraordinary that the proposed inquiry was now to be set up without debate or amendment.
Leas Ceann Comhairle Michael Kitt told TDs Mr Barrett had ruled the debate out of order under a standing order preventing a matter being raised in an overt manner so that it appeared to be an attempt by the Dáil to encroach on High Court proceedings.
Mr Kitt read a statement form Mr Barrett, saying: "This decision was reached in a fair, impartial and objective manner having regard to all the facts before him.
"Any suggestion or characterisation to the contrary is totally incorrect."
Tánaiste Joan Burton said both Government parties would have welcomed a debate.
Ms Burton suggested that the issue be discussed by the Committee of Procedure and Privileges.