The wife of Japanese journalist Kenji Goto, who is being threatened with execution by Islamic State militants, broke her silence today hours before the deadline for a hostage swap that could save his life.
As a sunset cut off for a prisoner exchange on the Turkish-Syrian border loomed, the wife, who signed her name only "Rinko", said she was begging Tokyo and Amman to save the lives of her husband and a Jordanian pilot.
Islamic State militants say they will kill the airman unless Jordan frees failed Iraqi suicide bomber Sajida al-Rishawi in exchange for Goto.
"In the past 20 hours the kidnappers have sent me what appears to be their latest and final demand," Rinko said in a statement published on the website of the Rory Peck Trust, an organisation that supports freelance journalists.
"If Sajida is not on the Turkish border ready for the exchange for Kenji by Thursday 29th Jan at sunset, the Jordanian pilot will be executed immediately."
In its latest message, IS - which rules large swathes of Iraq and Syria under an extreme version of Islamic law - said it was willing to free Mr Goto.
But Jordan is demanding the return of pilot Mr al-Kassasbeh, whose F16 fighter jet crashed over northern Syria on 24 December.
With the militants' deadline looming, Jordan said it was still waiting to see evidence that Mr al-Kassasbeh was still alive - something the group has so far refused to offer.
Mr Goto's wife said the couple had two young daughters.
"Our baby girl was only three weeks old when Kenji left. I hope our oldest daughter, who is just two, will get to see her father again. I want them both to grow up knowing their father," she said.
"My husband is a good and honest man who went to Syria to show the plight of those who suffer.
"I fear that this is the last chance for my husband and we now have only a few hours left to secure his release and the life of (Maaz al-Kassasbeh).
"I beg the Jordanian and Japanese government to understand that the fates of both men are in their hands."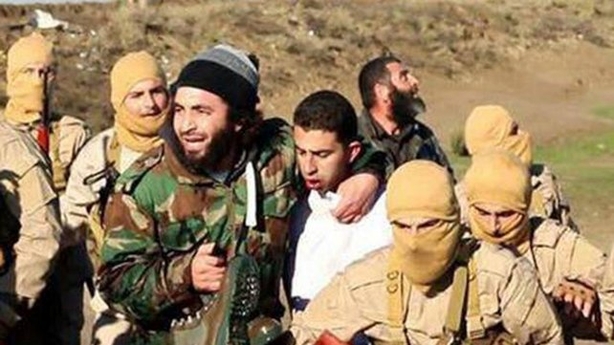 Japan earlier said a fresh message from the Islamic militants threatening to kill the hostages was very likely genuine.
Chief Cabinet Secretary Yoshihide Suga told journalists that the recording, which demands the release of failed suicide bomber al-Rishawi, seemed real.
"We are in the process of confirming it but it is highly probable that the voice is (Kenji) Goto's," he said.
Ms al-Rishawi is on death row in Jordan for her role in 2006 triple hotel bombings in Amman that killed 60 people.
IS said the proposed exchange should take place at the Turkish border.
Mr Suga said that Japanese Prime Minister Shinzo Abe had asked "various countries, including Turkey... for their cooperation".
The latest message, apparently using Mr Goto's voice, ordered Jordan to release al-Rishawi in exchange for Mr Goto's life.
It said the group would kill Mr al-Kassasbeh if it did not get what it wanted.
Jordan offered yesterday to release al-Rishawi in exchange for the pilot, whose release Jordan has been negotiating since his capture in December.
Japan has been seeking Jordan's help in attempting to free Mr Goto particularly since an IS video released at the weekend said another Japanese hostage, Haruna Yukawa, had been beheaded.
After initially setting a $200m ransom for the release of Mr Yukawa and Mr Goto, the Islamic State group, which controls swathes of Syria and Iraq, changed tack and demanded Jordan free al-Rishawi.