Minister for Health Leo Varadkar has said it is not clear if medical negligence was involved in the care of seven babies who had evidence of oxygen deprivation at Portiuncula Hospital in Co Galway.
Speaking on RTÉ's Today with Sean O'Rourke, Mr Varadkar said that given the recent high profile problems in maternity hospitals we must not be complacent.
Mr Varadkar said everyone in the Saolta Hospital Group, which runs Portiuncula, and the Health Service Executive is clear that there be full honest disclosure.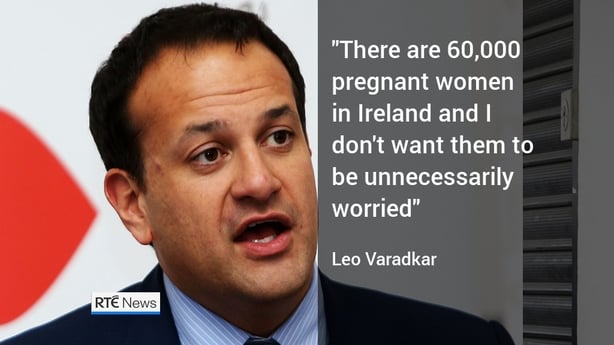 The minister said private meetings would be taking place with the parents involved, adding that some had already taken place.
He also said that maternity hospitals in Ireland are safe and he did not want pregnant women to be unnecessarily worried.
The HSE is currently investigating serious deficiencies in maternity care at Portiuncula Hospital.
It follows the deaths of two babies during childbirth between February and November last year.
A further five babies were seriously deprived of oxygen during delivery at the maternity unit in Portiuncula during the same period.
They had to be transferred to hospital in Dublin for emergency treatment.
The Saolta Hospital Group opened the inquiry after concerns were raised.
Portinucla Hospital has a contact number for people who may be concerned about their experiences of its maternity services.
People can contact 090 96 24620 tomorrow, Sunday and Monday from 9am to 5pm.
Several serious care deficiencies have been identified, including issues relating to foetal heartbeat monitoring during labour, the administration of drugs and delivery methods.
The hospital group said it is in the process of contacting the families of the babies affected.
No staff members have been moved from their roles or suspended since the problems emerged at the beginning of December.
The HSE said additional training has been provided for all maternity staff and extra supervision is in place.
It said it is satisfied that, as a result of these measures, there is now no patient safety risk at Portiuncula's maternity unit.
The inquiry will examine the management of women during labour, including whether senior consultants were called in good time by other staff to deal with issues, and whether the referral of babies with hypoxia for head cooling was timely.
Five of the babies were referred to Dublin for head cooling.
The procedure is used to counter the effects of a lack of oxygen during birth.
It should start within six hours of birth and continue for 72 hours.
The facility is available at the three main maternity hospitals in Dublin and in Cork.
It is estimated that maternity hospitals would expect to see around 1-2 cases of hypoxia in every 1,000 births.
It is understood the inquiry will examine whether decision-making was as robust as it should have been, particularly in the cases of the babies who died and those who had to be treated in Dublin.
The problems have been described by Saolta as "serious patient safety issues".
In a statement this evening,
Portiuncula Hospital Ballinasloe-Saolta University Health Care Group said it "is satisfied that there is no continuing patient safety concern arising from the issues recently identified at the maternity department in the hospital."

It added that it "regrets any distress caused to the families involved and to other service users".
Boylan defends Irish maternity hospitals
Former master of the National Maternity Hospital in Holles Street defended Irish maternity hospitals, saying that Irish women should be reassured maternity services tend to be extremely safe.
Dr Peter Boylan told RTÉ's Drivetime that there are instances where things go wrong and where mistakes are made, with often very tragic outcomes, but that the vast majority of births are without complication and mothers are very well looked after.
He said that despite stretched resources, Irish results are very good.
Minister Varadkar said he was satisfied that pregnant women will receive the best possible treatment at Portiuncula.
He said: "Portiuncula is on a par with any other in the State. Remedial actions were put in place when this came to light back in December, additional senior supervision, additional training.
"It's been audited several times since and there have been no adverse incidents since the audits began on the 4th of December.
"And as I say there's now going to be an external review led by midwives and obstetricians from outside the hospital group and there will be a patients representative as well."
Pat Nash, Clinical Director of Saolta, said that given the young age of the children involved, it is too early to determine long-term outcomes.
Speaking on RTÉ's Morning Ireland, Mr Nash said that a number of protective measures have been put in place at Portiuncula.
He added that regular audits since the measures have been put in place have shown no ongoing concerns with the care at the hospital.
Mr Nash also said an independent review team, from outside the Saolta group, or the old HSE West, is currently being identified to conduct a detailed review of these cases and of the unit on a larger scale.
The families of the babies, who are being offered consultations with medical staff and support services, will also be consulted on the terms of reference for the inquiry.
The report, which is due within three months, will be published and the findings will be presented to Minister Varadkar.
Resources needed to be examined - Naughten
Independent TD Denis Naughten said the investigation needed to talk with the parents involved.
Speaking on RTÉ's News at One, Mr Naughten said those investigating should speak to the parents to see if they have specific questions they need answers to.
He said the resourcing of the maternity unit also needed to be examined and there was not currently any concern in relation to patient safety.
Mr Naughten said there were fears locally that the maternity hospital would be closed down.
He said the Saolta hospital group produced an internal report on the reconfiguration of maternity services in the west and north-west last year.
He said the report produced five options, four of which involved the closure of Portiuncla hospital.
Mr Naughten said that report was subsequently withdrawn but there were concerns that the current controversy could be used to implement its recommendations.
He said this was wrong, in relation to the parents of the babies involved, the staff in the hospital, and wrong in relation to the expectant mothers who would be attending the hospital.