The Health and Safety Authority says the prevention of serious and fatal accidents on farms is a key priority for the authority in 2015.
It follows confirmation that the planned number of farm inspections is being reduced.
About 2,900 farm inspections were carried out in 2014, with only 2,300 planned for 2015.
In a statement, the HSA said it believed the prevention of farm accidents could be achieved by influencing behaviour change and fostering a strong culture of safety.
The HSA said, while inspections were an important part of that, it must continually review additional methods.
The authority said by reducing the number of farm inspections in 2015 it could redirect this inspector resource to take part in other activities, such as discussion groups and farm walks.
Speaking on RTÉ's Today with Sean O'Rourke, Pat Griffin of the HSA said the authority was rebalancing what it did for farmers, but it would not contemplate having reduced resources or reduced contact with the farming community at this time.
Mr Griffin said the authority had not reduced the resources given to agriculture in any way.
On the same programme, Brian Rohan of Embrace FARM said it was unfortunate the HSA had only five full-time inspectors to cover farming, whereas Bord Bia had 100 quality assurance inspectors to cover food quality.
Mr Rohan added he was not blaming the HSA, adding that it could only do so much to reduce the number of farm accidents.
Earlier this month the HSA announced what it said were tougher enforcement measures on a number of farm safety issues for the coming year.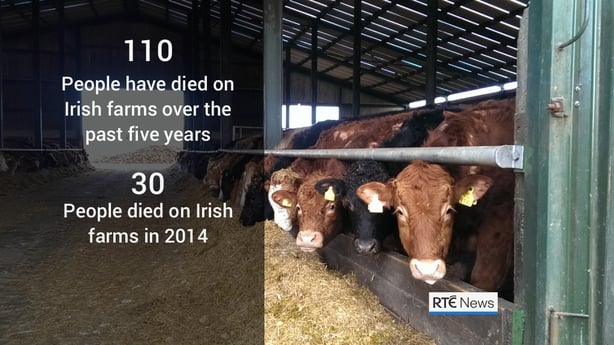 The announcement comes after a man in his early 60s died following an accident on a farm in Bennettsbridge, Co Kilkenny yesterday.
The Health and Safety Authority is investigating.