Ukrainian President Petro Poroshenko has said that pro-Russian rebels will pay a "high price" for their escalating attacks on government forces across the separatist east.
"Our enemy will pay a high price for its opportunistic attacks on our armed forces," his office quoted President Poroshenko as telling an emergency security meeting convened after Kiev's decision to give up its months-long defence of Donetsk airport in the east.
Earlier today at least eight civilians died after shelling hit a trolleybus stop in the city of Donetsk in eastern Ukraine, according to government sources.
A city official put the death toll at least 13, with a further dozen people injured in the attack.
The military in Kiev earlier blamed pro-Kremlin insurgents for the second such incident in less than two weeks.
However, Ukrainian Prime Minister Arseny Yatsenyuk said Russia bore just as much guilt because it supplied the fighters with heavy weapons and backed them up with army troops - charges Moscow flatly denies.
Meanwhile, Russia said the trolleybus attack was a "monstrous crime" aimed at undermining peace process.
The Russian Foreign Ministry said: "We regard this incident as a crime against humanity, blunt provocation aimed at undermining efforts to seek a peaceful solution of the Ukrainian crisis".
Elsewhere, Ukraine's military said days of attacks by pro-Russian insurgents had forced its soldiers to pull out of the main part of Donetsk airport.
The airport has become a symbolic prize of the nine-month war.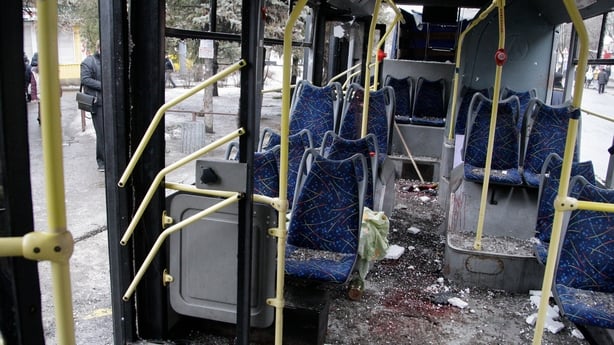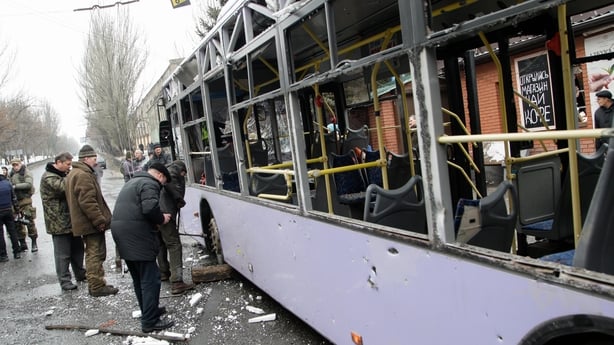 Defence officials in Kiev said fighting around the ruins of the international airport continued despite the deaths of six Ukrainian troops and the capture of 16 more by separatists overnight.
Ukraine said ten soldiers had been killed overall and 16 wounded in 24 hours of fighting across the mostly Russian-speaking industrial east of Ukraine.
It is one of the heaviest tolls since the signing of a largely ineffective September truce.
"Yesterday evening we made the decision to leave the new terminal," military spokesman Vladyslav Seleznyov said in reference to the main airport building that had been held by Kiev forces since late May.
Foreign ministers in call for ceasefire
The tram attack came mere hours after peace talks in Berlin between Ukrainian, Russian, German and French foreign ministers called for a ceasefire.
The four diplomats called "on all sides involved to cease hostilities and to withdraw heavy weapons" back from a demarcation line agreed in a September truce pact signed in Minsk."
German Foreign Minister Frank-Walter Steinmeier said he was unsure if any breakthrough was made at the talks, adding the coming days would show whether there is real progress or not.
US Secretary of State John Kerry yesterday accused the separatists of attempting a "blatant land grab".
He said the US was "particularly concerned" by a rebel initiative to "attempt to gain control of a very significant rail juncture" in eastern Ukraine in violation of a September ceasefire deal, calling it "an effort to try to broaden the amount of territory that is being held."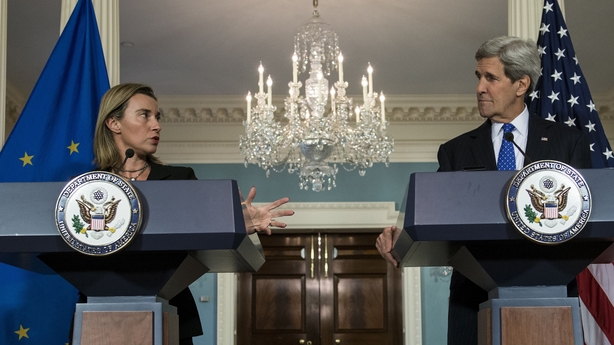 Speaking after meeting EU foreign policy chief Federica Mogherini, Mr Kerry said there had been about a 1,300-square-km extension of the line of control which demarcates the rebel-held territory from the rest of Ukraine.
"So this is a blatant land grab and is in direct contravention to the Minsk agreements which they signed up to," Mr Kerry added, referring to the September ceasefire deal.
He described the fresh fighting as "an alarming situation" adding, "the United States continues to support Ukraine's territorial integrity and we condemn all actions that are aimed at undermining its sovereignty."
Mr Kerry added that he and Ms Mogherini had agreed to "do all that we can" to help Ukraine deal with a worsening economy.