DUP leader Peter Robinson has described British Labour leader Ed Miliband as someone he could do business with.
The Northern Ireland First Minister also expressed hopes of exerting greater influence at Westminster in the event of a hung parliament.
"I hope that both the Labour Party and Conservative Party have a good election, but not a great election," said Mr Robinson, whose party currently holds eight seats in the Commons.
"It of course allows greater influence for the smaller parties if there is something to play for after the election."
Mr Robinson and Deputy First Minster Martin McGuinness held talks with Mr Miliband in Belfast this afternoon.
But the Labour leader insisted he was not thinking about potential coalition partners, claiming Prime Minister David Cameron was the man worried about a hung parliament.
Asked about the another mooted Westminster ally - the SNP - Mr Miliband said: "My focus is very clear, I want a majority Labour government, I think a majority Labour government is what the country needs, that is what I am campaigning for.
"I think David Cameron is the one who now seems to be talking about coalitions and deals - he has clearly given up on winning an election.
"My task and my focus is entirely on one thing, which is putting a manifesto before the British people and winning that majority."
With Sinn Féin having made clear its unwillingness to reverse its abstentionist policy in the Westminster, the focus of interest in Northern Ireland in the event of a hung parliament will centre on the DUP's stance.
Asked if he could do business with Mr Miliband, the DUP leader, said: "There is no question we can do business, we have done business with previous Labour administrations."
Burton: Miliband sees EU membership as 'essential'
Tánaiste Joan Burton held a private meeting with Mr Miliband in Belfast last night.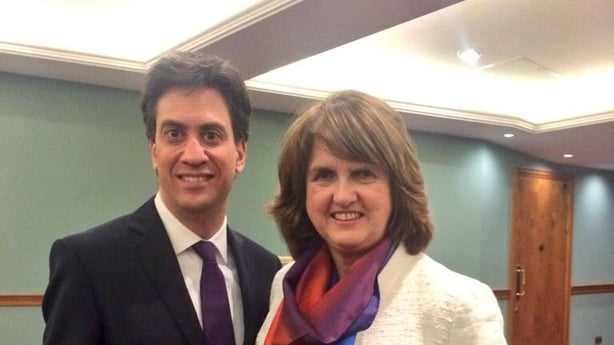 She said afterwards that she believed Mr Miliband values Britain's membership of the European Union and sees it as essential in terms of Britain's future economic growth.
Mr Miliband is in Northern Ireland for a series of engagements.
With British general elections due in May, he will be hoping for support from at least some of the 18 Westminster MPs the region will elect.
Mr Miliband also told business leaders that economic and social development must go hand in hand with efforts to secure the peace process.
He also pledged an administration that would be "engaged" with the challenges facing the region.
Meanwhile, the Minister for Foreign Affairs and Trade will attend a meeting in Belfast next week to establish a timeline for the implementation of the Stormont House Agreement.
Speaking in the Dáil today, Charlie Flanagan said it would require legislation in the Oireachtas.
Minister Flanagan said he has been in contact with the Minister for Justice to establish the appropriate legislation which "will be introduced in early course".