The General Secretary of the Association of Secondary Teachers of Ireland has said that unions would sit down with the Department of Education next Thursday to discuss a way forward, but that no compromise would be made on the proposal to assess their own students' work.
Speaking to RTÉ 's Drivetime Pat King said that he regrets the inconvenience the industrial action has caused parents and students.
"Nobody understands better than teachers concerns about examinations; it's our job, it's our livelihood. The students we look at everyday, we're concerned about them. Hopefully, next Thursday and the days after, we'll sort this" Mr King said.
He said that he is hopeful an agreement can be reached at next week's talks at that a further day of industrial action will not be necessary.
Earlier today Minister for Education Jan O'Sullivan described today's strike action as unwarranted and disproportionate.
Almost 30,000 secondary school teachers are striking to protest against reform of the Junior Cycle.
The industrial action is affecting 350,000 secondary school students.
Minister O'Sullivan said there was an invitation from the chair of negotiations, Padraig Travers, to teachers and department representatives to attend talks again next week.
She said it was necessary to sit around the table and address the issues.
Ms O'Sullivan said the proposal that was on offer for Junior Cycle assessment - whereby 60% would be marked by the State Examinations Commission and 40% would be assessment in schools with the involvement of teachers - was the best of both worlds.
She said all of the knowledge of the issue, including research from other countries and from people who feel strongly about it in Ireland, is that this proposal would be a very positive learning experience.
She said a resolution would be found and called on unions not to bring children out of school again and urged students not to worry.

Members of the Association of Secondary Teachers in Ireland and the Teachers' Union of Ireland are opposed to plans to have teachers assess 40% of their own students' work at junior level.
Teachers say this will damage their relationship with students.
An earlier strike took place on 2 December last year.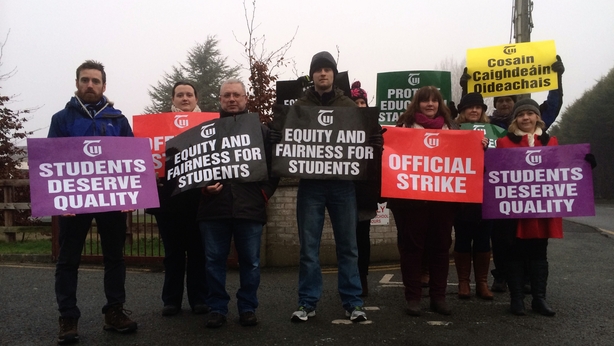 Talks between the parties in the intervening period have proved ineffective.
Mary Murphy, who is a teacher in Maynooth, said teachers are prepared to do whatever it takes.
"We believe that the system we have at the moment is transparent, it's equitable. The public have trust in it which is the most important thing.
"I think if we end up assessing our own students it would have a negative impact on teachers and students and their parents," she said.
John McDonagh, who is also a teacher in Maynooth, said it is having an affect on teachers.
He said: "They are forfeiting a second day's pay, because they believe in the principle of fair and accountable marking, and that the trust that the Irish people have in the education at the moment.
"That is going to be sacrificed if we are marking our own children for example - I teach my own children," he said.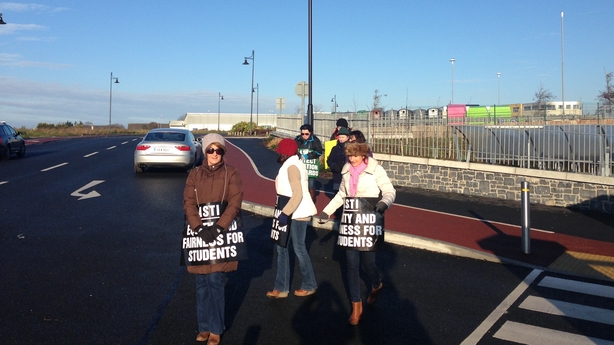 The National Parents Council says the strike action is unfair on students, particularly those Leaving Cert students preparing for mock and oral exams.
Speaking on RTÉ's Morning Ireland, Don Myers said it will lead to stress for students as they face the State exams.
Mr Myers said parents want to be involved in the talks regarding reform of the Junior Cycle and he questioned why "talks should be carried out between the Department of Education and teachers behind closed doors".
He added that if they were even there in an observatory role they could make a difference.
Mr Myers also said he has no issue with teachers marking 40% of their students exams, saying that it is a small mark out of the total examination and is already being done in practical subjects.
Yesterday, Minister for Education Jan O'Sullivan said the strike was "unnecessary".
Here are teachers on strike outside my old school in Passage West. Looks cold. pic.twitter.com/sSMDtdpxbB

— Justin McCarthy (@MrJustinMac) January 22, 2015
Teachers at Coláiste Einde in Salthill on the picket line this morning pic.twitter.com/GcgEfSdAGw

— Pat McGrath (@patmcgrath) January 22, 2015