US President Barack Obama has called on Congress to pass a new authorisation of force against the Islamic State militant group in Iraq and Syria.
Mr Obama said in the annual State of the Union address that a US-led coalition of countries is stopping the advance of the IS group.
He called on Congress to show the world that the US is united in this mission by passing a resolution to authorise the use of force against IS.
Mr Obama also warned Congress that any move to impose new sanctions on Iran could scupper delicate negotiations aimed at reaching a complex nuclear deal.
"New sanctions passed by this Congress, at this moment in time, will all but guarantee that diplomacy fails ," Mr Obama said.
Several US Senators have been pushing to pass new sanctions on Iran as talks between the Islamic Republic and six world powers over its nuclear program drag on.
And, as some politicians manoeuvre to try to draft a bill placing new sanctions on Iran, Mr Obama renewed his vow to veto any such legislation.
Talks between global powers and Iran to rein in its disputed nuclear program resumed last weekend in Geneva, with a new deadline looming at the end of June.
Negotiators however have said they would like to see a framework deal in place sometime in March, after two previous deadlines for a historic accord were missed.
"Between now and this spring, we have a chance to negotiate a comprehensive agreement that prevents a nuclear-armed Iran," Mr Obama told US lawmakers.
President Obama also warned Russia that US support for Ukraine was a show of American strength and diplomacy which had left Russia isolated and its economy in tatters.
"We're upholding the principle that bigger nations can't bully the small - by opposing Russian aggression, supporting Ukraine's democracy, and reassuring our NATO allies," he said.
His words came as Ukraine accused Russian forces of attacking its soldiers after crossing over into the ex-Soviet state's war-wrecked separatist east in violation of a September truce deal.
Russian Foreign Minister Sergei Lavrov has denied the accusations.
The charges could add further tensions to difficult talks in Berlin today aimed at stemming a spike in fighting that has already killed 4,800 people and driven a million from their homes.
President Obama also urged lawmakers to prepare the way to ending the half-century embargo on Cuba.
"Our shift in Cuba policy has the potential to end a legacy of mistrust in our hemisphere," Mr Obama said.
On the eve of ground-breaking talks in Havana to discuss normalizing diplomatic ties with the communist-run Caribbean island, he said there was no more "phony excuse for restrictions in Cuba."
The highest-ranking US delegation to visit Havana since the 1980s will meet Cuban officials for talks on Wednesday and Thursday.
The meeting will be the first since the historic announcements in December by Mr Obama and Cuban leader Raul Castro that their countries will normalise ties that broke off in 1961.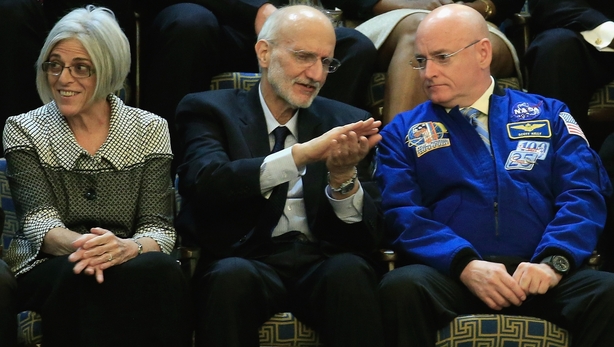 Alan Gross (C), recently freed after being held in Cuba since 2009, speaks with NASA astronaut Scott Kelly 
On the domestic front, Mr Obama greeted the new Republican-led Congress with defiance, calling for his opponents to end their resistance to raising taxes on the wealthy and threatening to veto any legislation they approve that would challenge his key decisions.
Dogged by an ailing economy since the start of his presidency six years ago, Mr Obama appeared before millions of Americans watching on television to declare that his policies have paid off with an economic revival that has trimmed the jobless rate to 5.6%.
It is now time, he said in his address, to "turn the page" from recession and war and work together to address those middle-class Americans who have been left behind.
The core of Mr Obama's plan to boost the middle class is to raise taxes on the wealthiest Americans by $320bn over the next ten years to pay for expanded tax credits and educational benefits for the middle class, including two years of free community college.
Mr Obama appeared liberated from having to face American voters again, a point that he reminded Republicans about.
"I have no more campaigns to run," Obama said. When a smattering of applause rose from Republicans at that prospect, he added with a tight grin: "I know because I won both of them."
Barack Obama responds to Republican heckling during his State of the Union Address. https://t.co/wHL6LrzgUc

— RTÉ News (@rtenews) January 21, 2015