Fighters from the Houthi group battled guards at the Yemeni president's private home and entered the presidential palace, witnesses said.
A second day of violence in Sanaa raised fears the country was descending into chaos.
The UN Security Council has condemned an attack on the presidential palace and voiced strong support for President Abdrabuh Mansur Hadi.
In a speech on live television, Houthi leader Abdel-Malekal-Houthi suggested the fighting involving his men was part of an attempt to protect a power-sharing deal meant to steer Yemen to stability.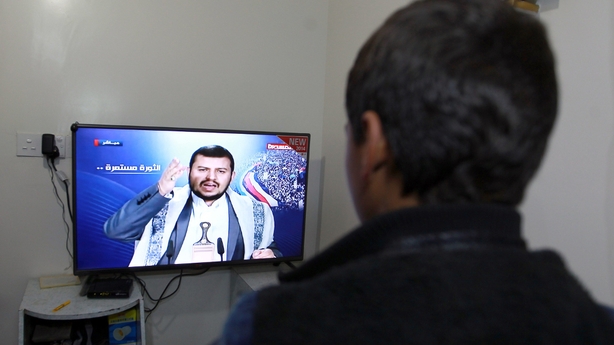 His speech was repeatedly critical of President Hadi, a US ally with whom Houthi has been at odds over a draft constitution intended to help end decades of conflict and underdevelopment.
He said no one, including Mr Hadi, was above any steps when it came to implementing the power-sharing accord, which was negotiated after his men seized the Yemeni capital in September.
Houthi prizes the accord as it grants his group participation in all military and civil state bodies.
"We ... will not hesitate to impose any necessary measures to implement the peace and partnership agreement," said Houthi, whose Shia Muslim group is widely seen as an ally of Iran in its regional struggle for influence with Saudi Arabia.
The emergence of the Houthis as Yemen's top power in September has scrambled alliances and stoked tensions across Yemen's political spectrum, raising fears of deeper instability in a country that has one of al Qaeda's most active branches.
Yemeni Information Minister Nadia al-Saqqaf said the clashes at Mr Hadi's residence amounted to an attempt to topple Yemen's government, a charge denied by a senior official of the Houthi group.
The clashes followed some of the worst fighting in Sanaa in years yesterday.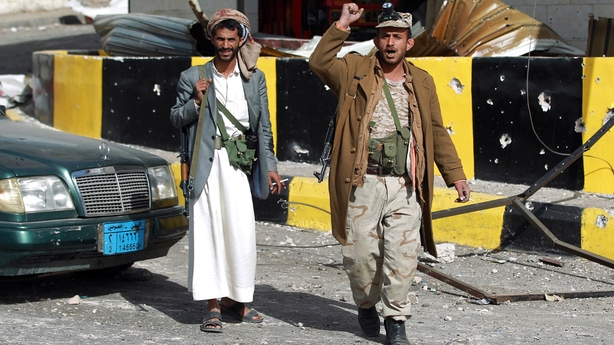 Guards loyal to Mr Hadi fought artillery battles near the presidential palace with the Houthi, which has been in conflict with the president over political and constitutional issues.
"Yemeni president under attack by armed militias seeking the overthrow of the ruling system," Ms Saqqaf said on Twitter this evening.
Residents said later the fighting had died down. A government official said two people had been killed.
The minister did not identify the militias, but she said they were firing from nearby houses. Mr Hadi lives in his private home and not in the palace.
Mohammed al-Bukhaiti, a member of the Houthi politburo, said his group had no plans to target Hadi.
"Ansarullah has no intention of targeting President Hadi or his house," he said, using the group's official name.
He said what happened at Mr Hadi's house was the result of a "provocation" by the president's security and that the incident has been contained.
Earlier today, Houthi fighters had entered Yemen's presidential palace after a brief clash with security guards, witnesses and security sources told Reuters.
In Washington, US President Barack Obama's senior adviser Valerie Jarrett said the president was following the situation in Sanaa.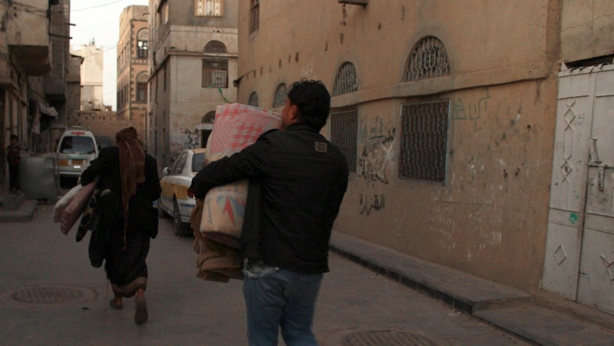 "He's obviously is in touch with the folks on the ground, our embassy, he's getting regular updates from his national security team," Ms Jarrett, said.
Asked whether there was a plan in place to evacuate US embassy staff or other Americans, Ms Jarrett said she had no specific comment but added: "We are in close touch with our embassy."
US officials have expressed worries about Iranian support, including weapons, for Houthi's Shia fighters.
They had hoped that the power-sharing deal struck in September between the country's political factions would calm the situation.
Washington has made clear in the past that it sees chaos in Yemen as creating conditions that al-Qaeda can exploit to strengthen its support and let it use the country for plotting attacks on Western interests.
Separately, two Yemeni men were charged in the US with working with al-Qaeda and conspiring to attack US military forces in Afghanistan in 2008, according to a complaint unsealed today.
Saddiq Al-Abbadi and Ali Alvi were arrested in Saudi Arabia and expelled to the US, the US Justice Department said.
The country has no formal extradition treaty with the United States, according to a list on the State Department website.