Satellite images of Nigerian towns attacked by Boko Haram have been released by Amnesty International.
The images show some 3,700 structures damaged or destroyed in Baga and Doron Baga earlier this month, Amnesty said.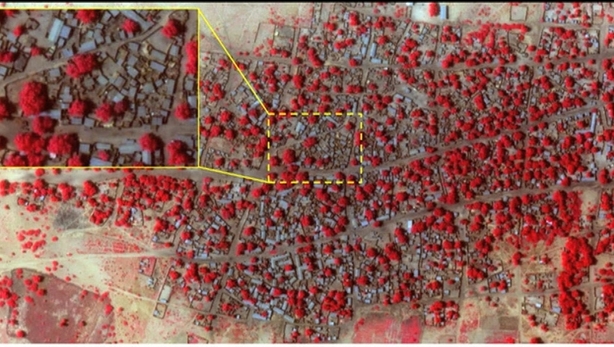 This image shows the town of Doron Baga before it was attacked by Boko Haram. The red areas indicate healthy vegetation.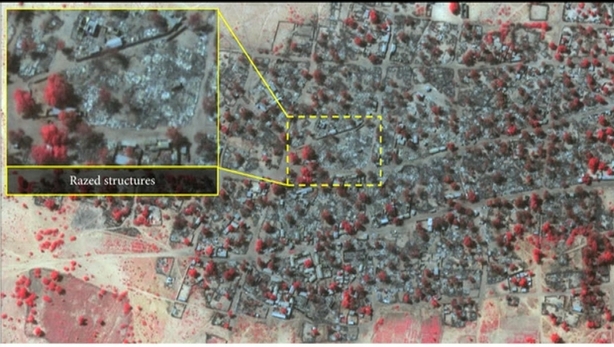 This image shows the level of destruction in Doron Baga after it was attacked by Boko Haram
Amnesty says the images provide evidence of the scale of the attacks, in which they estimate around 2,000 people were killed, however the government puts the figure at 150.
In Baga, Amnesty says an estimated 620 structures were damaged or completely destroyed by fire, while in Doron Baga more than 3,100 structures were damaged or destroyed by fire.
Amnesty cited witnesses saying that militants had killed indiscriminately. It said the damage was "catastrophic".
"These detailed images show devastation of catastrophic proportions in two towns, one of which was almost wiped off the map in the space of four days," said Daniel Eyre, Nigeria researcher for Amnesty International.
"Of all Boko Haram assaults analysed by Amnesty International, this is the largest and most destructive yet.
"It represents a deliberate attack on civilians whose homes, clinics and schools are now burnt out ruins."
Thousands of people have fled the violence across the border to Chad and to other parts of Nigeria.
Amnesty has called on the governments of Nigeria and Chad to ensure these displaced people are protected and provided with adequate humanitarian assistance.
Meanwhile, US Secretary of State John Kerry has said that the massacres in two Nigerian towns by Boko Haram constituted a "crime against humanity".
"The recent slaughter is a crime against humanity, nothing less," Mr Kerry said in Bulgaria.
"It's an enormously horrendous slaughter of innocent people."