A Singapore navy ship has found the fuselage of the AirAsia plane that crashed into the sea late last month with 162 people on board.
Defence Minister Ng Eng Hen said in a Facebook post he had been informed that one of Singapore's navy ships involved in the search, MV Swift Rescue, "has located the fuselage of the AirAsia plane in the Java Sea".
He said that images taken by a remotely operated vehicle "show part of the wing and words on the fuselage".
Mr Ng's post was accompanied by underwater photos of what appeared to be the fuselage.
The words "now" and "everyone" are visible on the photos, apparently from AirAsia's motto "Now Everyone Can Fly" painted on the plane's exterior.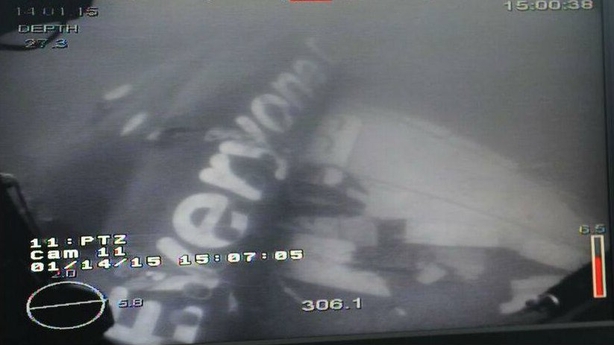 "We have informed BASARNAS, the Indonesian search authority who can now begin recovery operations," Mr Ng said.
Finding the fuselage of the Airbus 320-200 is seen as vital, as most of the victims are believed to be still trapped inside.
Just 48 bodies have so far been recovered.
"The accident is a tragic event resulting in the loss of many lives. I hope that with the fuselage located, some form of closure can come to the families of the victims to ease their grief," said Mr Ng.
The plane's flight data recorder and cockpit voice recorder have already been recovered, raising hope of determining why it went down.
Flight QZ8501 crashed in the Java Sea on 28 December in stormy weather during a short, routine flight from the Indonesian city of Surabaya to Singapore.