President Michael D Higgins and his wife Sabina joined representatives of the Christian, Muslim and Jewish faiths at a special Mass in solidarity with the French people this evening.
Archbishop Diarmuid Martin told the congregation in Dublin's Pro-Cathedral, which included French Ambassador Jean-Pierre Thébault, that last week's violent events in Paris had shocked and stunned us.
They marked an attack on a city, a nation, a culture and on democracy, he said.
But he urged people to remain sensitive to the loss to families of ordinary men and women who had woken up last Wednesday morning to go about their daily tasks and never returned home.
Referring to the biblical story of Cain and Abel from the Book of Genesis, which is honoured by all three Abrahamic faiths (Judaism, Christianity and Islam), the archbishop said if we fix our hearts on doing what is right, we can...master the effects of evil.
"That is our sentiment as we gather in solidarity with the people of France and those anywhere in our world who suffer the effects of violence and evil," he said.
Dr Martin added: "We need to build up a culture of dialogue and respect. We must do it honestly and with the courage to tackle what is wrong in our own hearts, in our own cultures, in our own religious traditions.
"We must condemn violence wherever it takes place. We must condemn with equal strength every form of violence."
Ambassador Thébault carried a candle to the altar representing his compatriots.
Former President Mary McAleese's candle represented all those who work to build a society based on decency and dignity, mutual understanding and respect, and solidarity and love.
Among those on the altar were Dr Ali Al Saleh, the Imam of Dublin's Milltown Mosque, Leonard Abrahamson of the Jewish Representative Council and the Church of Ireland Archbishop of Dublin, Dr Michael Jackson.
Also in attendance were Dublin's Lord Mayor, Christy Burke, and the Minister for Foreign Affairs, Charlie Flanagan. Dr Mudafar Al-Tawash represented the Islamic Foundation of Ireland.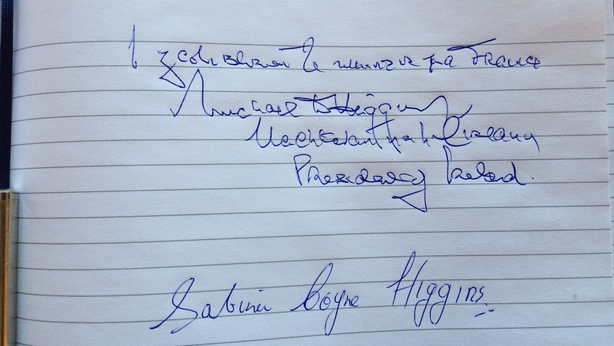 Earlier, President Higgins signed a book of condolences at the French Embassy.
He spoke with the ambassador afterwards to convey his sympathies to the French people.