AIB has announced plans to outsource 171 IT jobs to three different companies.
The bank confirmed that the roles will go to Eircom, Integrity and Wipro as part of a plan to outsource some IT functions.
The bank has said it is to begin a process of consultation with employees.
It is understood that no staff members will be made redundant as part of the move but they are expected to transfer to new employers.
All of the jobs affected are IT services positions in Dublin.
The Irish Bank Officials' Association union, which represents staff, says that in addition to the 171 jobs which are to be outsourced, AIB is conducting a review of a further 200 positions.
AIB has not commented on the IBOA's statement relating to these additional jobs.
Earlier, management briefed staff on the move, and also held a meeting with unions on the matter.
The outsourcing project has been worked out by the bank under a scheme known as "Project Orion".
Last night, AIB refused to comment on the exact purpose of today's meetings, except to say that there is an ongoing review of IT services at the bank.
It said it has always adopted a partnership approach with its employees and their representatives when managing change.
The bank also said the review is being carried out in full consultation with the unions.
The General Secretary of the IBOA said AIB's decision to outsource its IT operations was "disappointing" given the commitment of those staff to the bank in the past and the fact that AIB is now once again making profits.
However, Larry Broderick welcomed the fact that no staff will be made redundant.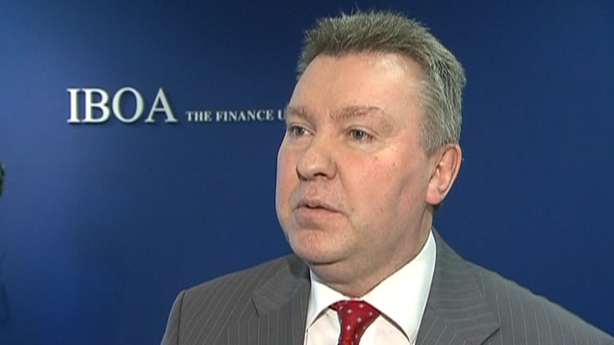 He said that if the decision to outsource the jobs is in the strategic best interests of the bank if it important that staff pay, pensions, terms and conditions are protected and the recent agreements on job security and restructuring transfer across as well.
Further meetings have been arranged over the next few days with AIB, Wipro, Eircom and Integrity to discuss all aspects of the plan and how it will affect staff who are due to transfer.
"We are adamant there will be no co-operation until an agreement is in place with IBOA members," Mr Broderick stated.

Earlier, he expressed concern that the potential outsourcing of security jobs and IT operations could leave AIB "vulnerable".
Speaking on RTÉ's Morning Ireland, he expressed the view that outsourcing IT could leave the bank vulnerable as it places a third party in charge of the company's IT, something that may not be in the best interests of the bank.
Reacting to today's news, Jobs, Enterprise and Innovation Minister Richard Bruton said the domestic banking sector is continuing to go through a difficult adjustment and that is part of the transformation that has to be done.
Mr Bruton said that he hoped many of the employees can be accommodated and those discussions have started.