Indonesian search and rescue teams have raised the tail of an AirAsia passenger jet that crashed nearly two weeks ago, killing all 162 people on board.
Search and rescue groups will soon search the tail of the aircraft for the flight recorders.
Indonesia AirAsia Flight QZ8501 lost contact with air traffic control during turbulent weather on 28 December, less than halfway into a two-hour flight from Indonesia to Singapore.
48 bodies, including at least two strapped to their seats, have been found in the Java Sea off Borneo.
Search and rescue teams detected pings they believed were from the flight recorders on Friday and two teams of divers resumed the hunt soon after dawn today.
The tail of the Airbus A320-200 was found on Wednesday, upturned on the sea bed about 30 km from the plane's last known location at a depth of about 30 metres.
Crews brought it up from the bottom with the help of airbags.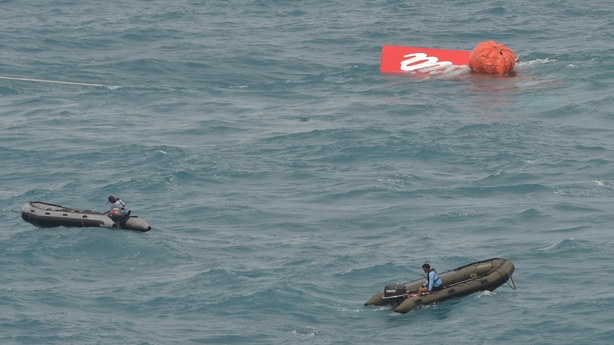 "Yes, the tail is already on the surface," an operations coordinator for the National Search and Rescue Agency, told reporters in the town of Pangkalan Bun, the base for the search effort on Borneo.
"It's currently being brought close to a ship and then it will be towed. And then they want to search for the black box."
The aircraft carries the cockpit voice and flight data recorders - or black boxes - near its tail.
However, officials had said earlier it looked as if the recorders, which will be vital to the investigation into why the aircraft crashed, had become separated during the disaster.
"The divers looked for the black box but they didn't find it," they said. "But it has to be checked again. Lifted and checked again."
It is estimated it will take up to 15 hours to tow the tail to land.