Around 34,000 businesses in Northern Ireland are set to benefit from a cut in corporation tax after the British government tabled a bill devolving powers to the Stormont Assembly.
Ministers said the change could be "transformative" for an economy which for years has been over-dependent on the UK.
Legislation introduced in Westminster today is expected to be completed before May's general election and should allow Northern Ireland to set its own tax rate from April 2017.
British Chancellor George Osborne said: "This will give the Northern Ireland Executive greater power to rebalance the economy towards a stronger private sector, boosting employment and growth."
Northern Ireland Secretary Theresa Villiers has said the coalition government is prepared to try to legislate for the change before the general election if the local parties implement a deal on financial issues and other problems which have threatened political powersharing at Stormont.
She said: "In the light of an economy that for many years has been over-dependent on the public sector, allowing the Assembly to set its own rate for corporation tax offers the prospect of a transformative change in Northern Ireland."
The plan is a key part of the Stormont House Agreement aimed at breaking the political stalemate.
Agreement established new structures
The agreement, forged on 23 December after 11 weeks' discussions, has resolved destabilising wrangles over the administration's budget and its non-implementation of welfare reforms while establishing new structures to deal with the legacy of unsolved Troubles killings.
It achieved less progress on other vexed disputes over the flying of flags and parading, but did set out new processes to examine how to find solutions to those matters in the future.
Much of the plan has been facilitated with a £2 billion financial package from the UK government - an offer that combines some new money from the Treasury with enhanced borrowing access and flexibility.
All parties in Northern Ireland have called for responsibility over the levy on business profits to be devolved in an effort to revitalise an economy emerging from decades of conflict.
A reduction in the rate from the UK-wide 21% to match the 12.5% for firms in the Republic of Ireland, a competitor for foreign direct investment, has been described as a "game changer" by advocates who consider it valuable in persuading firms to create jobs in Northern Ireland.
But it could lead to a substantial reduction in the block grant paid by Westminster to run public services.
Ms Villiers said, if the rate was lowered, around 34,000 businesses in Northern Ireland would stand to benefit, including 26,500 small and medium-sized enterprises.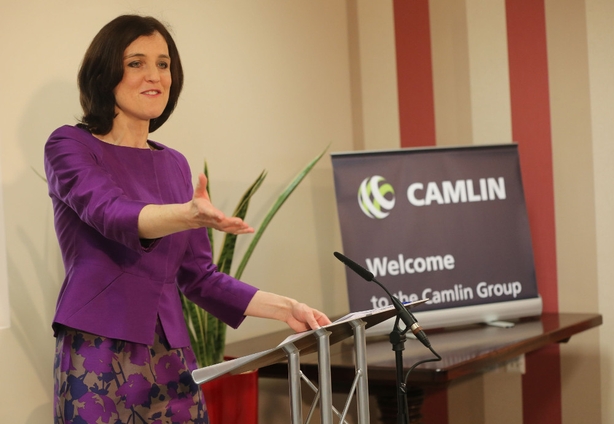 She told a group of business representatives near Belfast there was strong support for this change across all five parties in Northern Ireland's ministerial Executive and the business community, which believes it would provide a major incentive for domestic businesses to invest further in Northern Ireland and significantly increase foreign direct investment.
"Given the land border shared with a lower corporation tax jurisdiction, this measure has the potential to create thousands of new jobs and stimulate crucial growth in Northern Ireland's private sector, leading to a stronger, re-balanced economy."
She added: "The Bill is subject to the important conditions contained in the Stormont House Agreement, reached with the Northern Ireland Executive parties in December after 11 weeks of negotiations.
"That agreement involves compromise on all sides, including from the UK and Irish Governments. But it is fair and balanced and provides the opportunity to build a brighter future for Northern Ireland."
Mr Osborne said he wanted to work with the Executive to ensure that Northern Ireland will attract investment and become more competitive, boosting the entire UK economy.
British ministers want the Northern Ireland corporation tax regime to be attractive to businesses, minimising the administrative burdens and encouraging genuine economic activity.
The NIO believes costs for the Executive must be proportionate and kept to a minimum.
It must also satisfy EU state aid rules, which aim to prevent the state from distorting competition in a way that harms companies in the Union.
This means the amount of block grant paid from London to Belfast is likely to be cut in line with a fall in the business tax take.
The Assembly will have the power to set the corporation tax rate over most trading profits. It does not include non-trading profits such as income from property.
One concern weighed by ministers in London was the potential for companies to move from the UK to Northern Ireland to take advantage of a favourable new tax system.
Another was the impact of the change on Scotland.
Recently Scottish First Minister Nicola Sturgeon insisted that if Northern Ireland received the powers "then there is no argument that says it shouldn't also be devolved to Scotland".
Scottish nationalists have said it would be reprehensible if Westminster gives the powers to Northern Ireland but denies them to Scotland.
In Northern Ireland former Stormont finance minister Sammy Wilson has sounded a note of caution about the cost of the change to the block grant for public services.
The Ulster Unionists have already expressed serious reservations about the state of Northern Ireland's finances despite the Stormont House Agreement.
The NIO said: "The regime has been carefully designed to enable the Northern Ireland Executive and Assembly to encourage genuine investment that will create jobs and growth, while minimising opportunities for avoidance and profit-shifting.
"The legislation includes a special regime for smaller companies to avoid disproportionate administrative burdens and uses existing international rules for larger companies to avoid unnecessary complexity, while ensuring robust profit allocation."
Northern Ireland already offers lucrative incentives to foreign firms to set up there via a government job creation agency which has helped create thousands of extra posts.
US fantasy drama Game Of Thrones has been filmed there and major US investors like Allstate insurers and engineering firm Caterpillar have established major bases.
The Bill also contains rules on the treatment of capital allowances and tax reliefs, including in the creative sector and in research and development, as well as on the treatment of profits and losses in Northern Ireland and the rest of the UK.
Profits from some trades - including lending and investing activities; asset management; finance leasing; long-term insurance including life insurance and reinsurance activities of general and life insurance - will remain in the UK main regime.
The UK's oil and gas tax regime will also not be part of the Northern Ireland system.