Specialist black box search teams and equipment from France are to arrive tomorrow at the search area for the AirAsia flight, which crashed on Sunday en route from Indonesia to Singapore.
France's BEA crash investigation agency assists in the investigation of any air crash involving an Airbus aircraft because the company is France-based.
Heavy seas stopped divers reaching the possible wreck of the AirAsia Indonesia jet off Borneo today.
An aviation official has said it could be a week before the black box flight recorders are found.
The plane was travelling at 32,000 feet (9,753 metres) and had asked to fly at 38,000 feet to avoid bad weather.
When air traffic controllers granted permission for a rise to 34,000 feet a few minutes later, they received no response.
The plane had been en route to Singapore from the Indonesian city of Surabaya.
Nine bodies have so far been recovered from the Airbus A320-200, which crashed with 162 people on board.
The bodies were brought in numbered coffins to Surabaya where relatives have gathered for identification.
AirAsia Indonesia's CEO Sunu Widyatmoko was seen weeping when authorities handed over the body of the first victim, Hayati Luthfiah Hamid, to family members at a Surabaya hospital.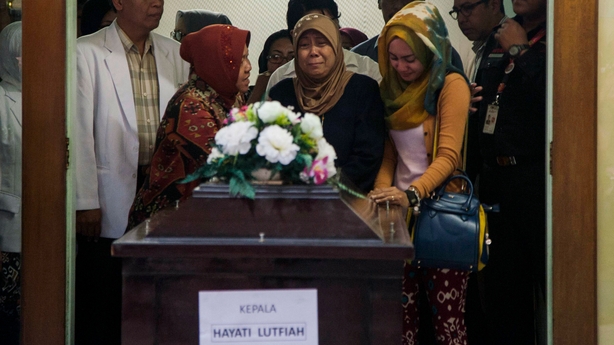 Ms Hamid, 49, was buried before sundown in the suburb of Desa Sawotratap, a few kilometres from the city, at an Islamic ceremony attended by relatives and neighbours.
Three members of her family were also on board the plane.
Searches today spanned an area of 13,500 square km involving 19 ships, four helicopters and five planes.
A search and rescue pilot has spotted a large shadow in the sea, which rescuers believe may be the wreckage, but they have made clear the sighting is not yet confirmed.
Forty-seven divers are on standby to investigate.
"I am hoping that the latest information is correct and aircraft has been found," airline boss Tony Fernandes tweeted.
"Please all hope together. This is so important."
An air safety investigator with the National Committee for Transportation Safety said he hoped the black box flight data and voice recorders could be found within a week, suggesting there was still doubt over the plane's location.
None of the tell-tale black box "pings" had been detected, he said.
However, poor weather was making the search operation difficult for even professional rescue divers.
Investigators are working on a theory that the plane stalled as it climbed steeply to avoid a storm about 40 minutes into the flight.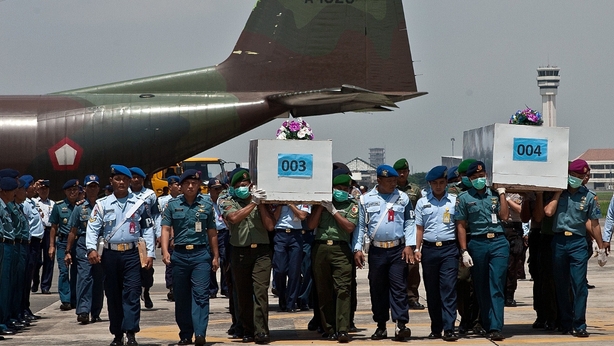 Authorities have been collecting DNA from relatives to help identify the bodies of those found so far.
Most of those on board were Indonesians. No survivors have been found.
A source close to the inquiry probe into what happened said radar data appeared to show that the aircraft made an "unbelievably" steep climb before it crashed, possibly pushing it beyond the Airbus A320's limits.
The Indonesian captain, a former air force fighter pilot, had 6,100 flying hours under his belt and the plane last underwent maintenance in mid-November, according to AirAsia Indonesia, which is 49% owned by Malaysia-based budget carrier AirAsia.