Rescue planes and helicopters sat grounded near the coast of the Indonesian island of Borneo as bad weather hampered the search for victims of the crashed AirAsia jet.
Officials were forced to suspend aerial missions as heavy rain and low visibility made it difficult to recover bodies four days after the Airbus A320-200 disappeared from the radar en route from the Indonesian city of Surabaya to Singapore.
One search and rescue official said bodies and debris were being scattered by strong currents and monsoon weather conditions.
Seven bodies have been pulled from the sea so far, another official said.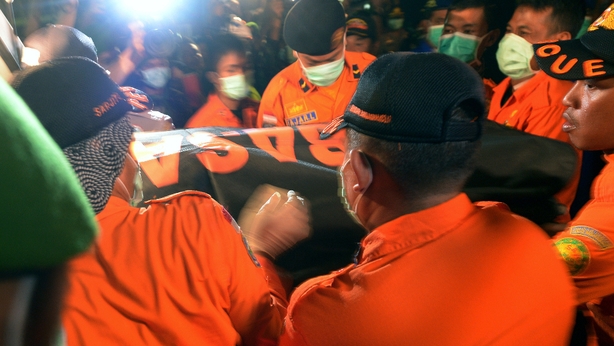 Two of those bodies were flown to Surabaya for identification.
Rescuers believe they have found the plane on the sea floor off Borneo, after sonar detected a large, dark object beneath waters near where debris and bodies were found on the surface.
Ships and planes had been searching the Java Sea for Flight QZ8501 since Sunday, when it lost contact during bad weather about 40 minutes into its flight from Surabaya to Singapore.
Some of the seven bodies which have been recovered from the sea were fully clothed, which could indicate the Airbus A320-200 was intact when it hit the water.
That would support a theory that it suffered an aerodynamic stall.
An official with Indonesia's search and rescue agency, said earlier that one of the bodies found had been wearing a life jacket.
But he later said no victim had been recovered with a lifejacket on.
"We found a body at 8.20am and a life jacket at 10.32am so there was a time difference. This is the latest information we have," he said.
Two bodies, in coffins bedecked with flowers and marked 001 and 002, arrived by an air force plane in Surabaya.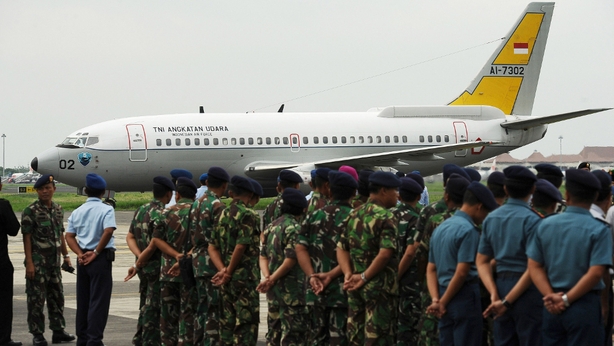 Most of the 162 people on board were Indonesians. No survivors have been found.
Rescuers believe they had found the plane on the sea bed with a sonar scan in water 30-50 metres deep.
The black box flight data and cockpit voice recorder have yet to be found.
Authorities in Surabaya were making preparations to receive and identify bodies, including arranging 130 ambulances to take victims to a police hospital and collecting DNA from relatives.
Strong wind and waves hampered the search and with visibility at less than a kilometre, the air operation was called off in the afternoon.
Indonesian President Joko Widodo said his priority was retrieving the bodies.
Relatives, many of whom collapsed in grief when they saw the first grim television pictures confirming their fears yesterday, held prayers at a crisis centre at Surabaya airport.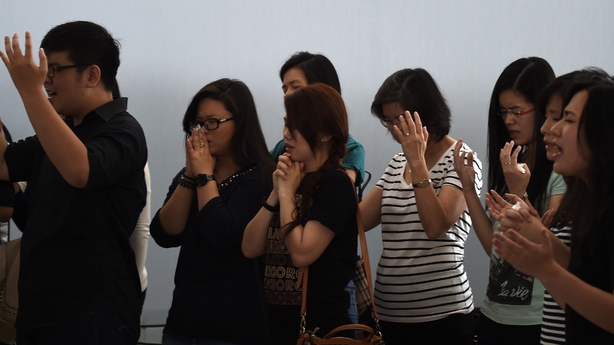 The plane was travelling at 9,753m (32,000ft) and had asked to fly higher to avoid bad weather.
When air traffic controllers granted permission for a rise to 10,363m (34,000ft) a few minutes later, they received no response.
The pilots did not issue a distress signal.
A source close to the inquiry into what happened said that radar data appeared to show that AirAsia Flight QZ8501 made an "unbelievably" steep climb before it crashed, possibly pushing it beyond the Airbus A320's limits.
The source, who declined to be named, added that more information was needed to come to a firm conclusion.
The Indonesian captain, a former air force fighter pilot, had 6,100 flying hours under his belt and the plane last underwent maintenance in mid-November, said the airline, which is 49% owned by Malaysia-based budget carrier AirAsia.
On board Flight QZ8501 were 155 Indonesians, three South Koreans, and one person each from Singapore, Malaysia and Britain. The co-pilot was French.
The AirAsia group, including affiliates in Thailand, the Philippines and India, had not suffered a crash since its Malaysian budget operations began in 2002.