Figures released today show that overseas tourists spent just over €3.5bn in Ireland this year.
The Irish Tourist Industry Confederation said that this was a 9% increase on last year, amounting to €300 million.
The confederation said that the 7.3 million overseas visitors to Ireland in 2014 represented the highest number in the sector in six years.
Chairman Paul Carty said the industry had amply demonstrated its resilience, having weathered several difficult years.
He estimated that tourism businesses employed in excess of 200,000 people, with 5,000 having been added in the past year, and the prospect of a further 8,000 jobs being generated next year.
The confederation released the figures with a statement that a programme of sustainable Government funding for tourism was essential if the industry were to remain competitive.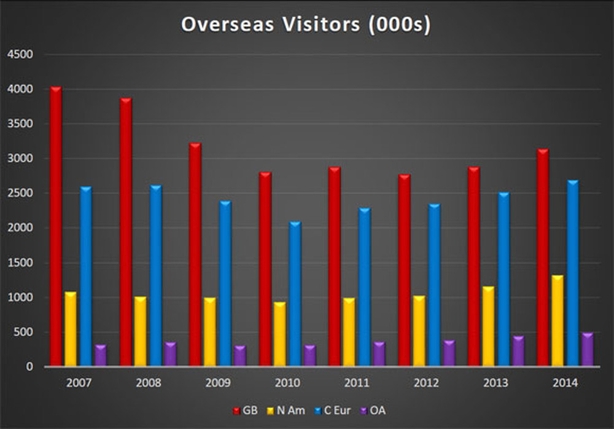 It said investment in transport, communications, air and sea ports was also essential to the industry remaining competitive and maximising the potential for growth.
The ITIC is also predicting a bumper year for tourism in 2015 with 400,000 extra people expected to visit Ireland.
Separately, management at the Guinness Storehouse in Dublin, a popular tourist destination, said a record 1.3 million visitors came through its doors in 2014.