Rescuers searching for a missing AirAsia flight, which lost contact with air traffic controllers with 162 people on board, have stopped their search for the night, Indonesia's transport ministry has said.
Indonesia AirAsia flight QZ 8501, an Airbus 320-200, was en route from the Indonesian city of Surabaya to Singapore, Indonesian officials said.
It lost contact with the Jakarta air traffic control tower at 0724 Surabaya local time (2324 GMT), after the pilots asked to change course to avoid bad weather.
"The aircraft was on the submitted flight plan route and was requesting deviation due to en route weather before communication with the aircraft was lost while it was still under the control of the Indonesian air traffic control," the airline said in a statement.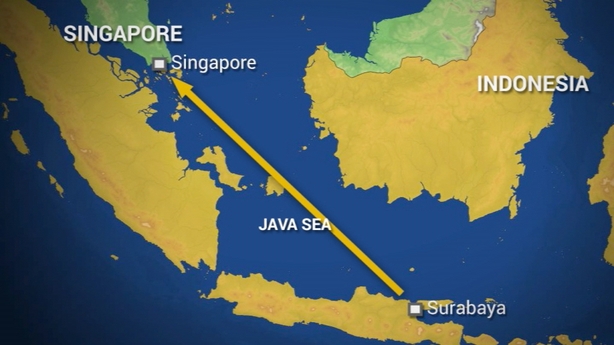 No distress signal had been sent, said Joko Muryo Atmodjo, air transportation director at the Indonesian Transport Ministry.
A search and rescue operation was launched, the airline and the Indonesian air force said, and was suspended due to lack of light, and will resume on Monday morning.
"We ended at 5:30 pm (1030 GMT) because it was getting dark. The weather was also not too good as it was getting really cloudy," transport ministry official Hadi Mustofa told AFP.
Singapore said it had activated its air force and navy to help. Indonesia AirAsia is 49% owned by Malaysian-based AirAsia.
Indonesia AirAsia said there were 155 passengers and seven crew on board. It said 155 people, 149 passengers and six crew members, on the flight were Indonesian, with three passengers from South Korea and one each from the UK, Singapore, and Malaysia. One member of the crew was French, the airline said.
The UK Foreign Office said that a British national was on board the missing AirAsia flight QZ8501 and next of kin had been informed.

The plane had been due in Singapore at 08.30 Singapore time (00.30 GMT).
The airline said the captain and first officer were both experienced.
The aircraft was between the Indonesian port of Tanjung Pandan and the town of Pontianak, in West Kalimantan on Borneo Island, when it went missing, Mr Atmodjo told a news conference.
The aircraft had been flying at 32,000 feet and had asked to fly at 38,000 feet to avoid clouds, he said.
Tanjung Pandan is the main town on Belitung Island, roughly half-way between Surabaya and Singapore, and Singapore's Channel News Asia television said there was bad weather over the island at the time the plane went missing.