US President Barack Obama has announced a move to normalise relations between the United States and Cuba.
Mr Obama said it is time to "cut loose the shackles of the past".
In a speech at the White House, Mr Obama said the thaw in relations after a five-decade freeze is being made after he determined the "rigid" and outdated policy of the past failed to have an impact on Cuba.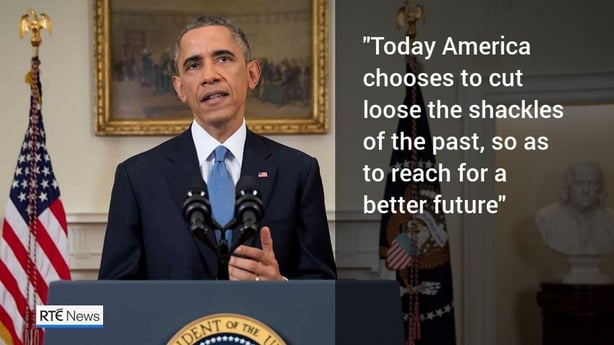 "Today we are making these changes because it is the right thing to do. Today America chooses to cut loose the shackles of the past, so as to reach for a better future, for the Cuban people, for the American people, for our entire hemisphere, and for the world," he said.
He said the new policy will make it easier for Americans to travel to Cuba.
Mr Obama said he would also talk to members of the US Congress about lifting the US embargo on Cuba.             
Pope Francis assisted in the thaw in relations by pressing for the release of American aid worker Alan Gross from Cuba, the president said.             
Mr Obama also thanked Canada for the role it played in hosting US-Cuban discussions.
Cuban President Raul Castro said Cuba had agreed to re-establish ties with the US.
"We have agreed to re-establish diplomatic ties after more than half a century," he said in a nationally broadcast address.
He added, however, that the divisive issue of the US trade embargo, which he called the "blockade," remained unresolved.
President Obama does not have concrete plans to visit Cuba, but a White House spokesman said he would not rule out a presidential visit.
"If there is an opportunity for the president to visit, I'm sure he wouldn't turn it down," White House spokesman Josh Earnest told reporters.

Read: How Obama will relax US-Cuba policy
US-Cuban relations - key events
Mr Earnest acknowledged that a future US president could reverse Mr Obama's new policies on Cuba, but said the White House hoped that Congress would take steps to completely lift the US embargo before Obama leaves office.
UN chief Ban Ki-moon has welcomed the announcements.
"The United Nations stands ready to help both countries to cultivate their good neighbourly relations," Mr Ban told a news conference at UN headquarters.
Senior US officials, previewing Mr Obama's announcement, said the United States and Cuba will move to open embassies in each other's capitals.
Mr Obama spoke yesterday to Mr Castro to discuss the changes in a call that lasted nearly an hour.
President Obama speaks with President Raúl Castro of Cuba before announcing his #CubaPolicy: http://t.co/ZeORP4H0jr pic.twitter.com/dJMxK2IAor

— The White House (@WhiteHouse) December 17, 2014
The shift will mean a relaxation in the flow of commerce and transportation by the US to Cuba, the officials said.
As part of a prisoner swap under the new policy, Cuba freed American Alan Gross in exchange for three Cubans held by the United States, the officials said.
Cuba is also releasing a US intelligence agent held for nearly 20 years.
Mr Gross today arrived at Andrews Air Force Base near Washington.
He said Cuba and the United States had to move beyond "mutually belligerent" policies.
Speaking to the media after his release from Cuba, Mr Gross thanked President Obama for all he had done to secure his release and said he did not blame the Cuban people for his ordeal.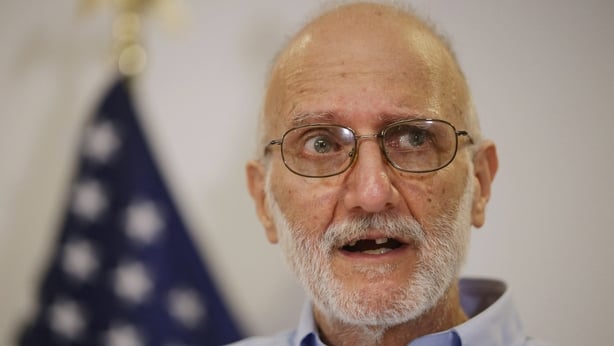 "Two wrongs never make a right. I truly hope that we can all get beyond these mutually belligerent policies and I was very happy to hear what the president had to say today," he said.
US Secretary of State John Kerry will review Cuba's designation as a state sponsor of terrorism.
"These steps will be the most significant changes to our Cuba policy in more than 50 years," a senior administration official told reporters.
"What we are doing is beginning the normalisation of relations between the United States and Cuba."
The official said the US and Cuba will be initiating high-level contacts and visits with Cuba.
"We will be immediately initiating discussions with Cuba to re-establish diplomatic relations that have been severed since 1961," the official said.
One official said the policy was being changed because of a belief within the Obama administration that the long-standing US embargo against Cuba was not working.
"If there is any US foreign policy that has passed its expiration date, it is the US-Cuba policy," the official said.
The two countries have been ideological enemies since soon after the 1959 revolution that brought Raul Castro's older brother, Fidel Castro, to power.
Washington and Havana have no diplomatic relations and the United States has maintained a trade embargo on Cuba for more than 50 years.
Washington's policy has survived the end of the Cold War as the US pushes for democratic reform in Cuba.
The US official said Mr Gross was released on humanitarian grounds.
The three freed Cuban intelligence agents, jailed since 1998, are Gerardo Hernandez, 49, Antonio Guerrero, 56, and Ramon Labaino, 51.
Two others had been released before on completing their sentences - Rene Gonzalez, 58, and Fernando Gonzalez, 51.
Cuba arrested Mr Gross, now 65, on 3 December 2009, and later sentenced him to 15 years in prison for importing banned technology and trying to establish clandestine Internet service for Cuban Jews.
Mr Gross had been working as a subcontractor for the US Agency for International Development (USAID).
US Senator Richard Durbin said talks for Mr Gross' release lasted about a year and the Vatican had "played a role" in them.
Florida Senator Marco Rubio said the release of Mr Gross "sets a dangerous precedent" that "puts a price on Americans abroad".
              
Speaking on Fox News, Mr Rubio, a Cuban-American Republican and potential 2016 White House contender, said he did not believe the US Congress would support lifting the embargo on Cuba.  
He said he would "make every effort" to block moves by President Obama toward normalising relations with the Cuban government, describing the decision as "inexplicable".
Whatever he announces in terms of a wider policy shift, Mr Obama may well face criticism in Washington and within the Cuban exile community in Miami for freeing the Cuban intelligence agents after 16 years in prison.
Their freedom will be hailed as a resounding victory at home for Raul Castro.
The payoff for Mr Obama was the release of Mr Gross, whose lawyer and family have described him as mentally vanquished, gaunt, hobbling and missing five teeth.
US officials had long cited Cuba's refusal to free Mr Gross as one of the biggest impediments to improved relations and had held out the possibility that his release could open the door to such steps.
Mr Gross's case raised alarm about USAID's practice of hiring private citizens to carry out secretive assignments in hostile places.
Cuba considers USAID another instrument of continual US harassment dating back to Cuba's 1959 revolution.
Fidel Castro retired in 2008, handing power to his brother.
Raul Castro has undertaken a series of economic reforms, but has maintained a one-party political system.
The United States has said it wants to promote democracy in Cuba, where political opponents are repressed and the state controls the media.
Steps by Mr Obama toward normalising relations with Cuba could stir opposition from some sectors of the large community of Cuban exiles, who have traditionally been politically well connected and well financed.