Politicians have condemned the "cowardly" attack on a school in Pakistan that has left over 100 children dead.
Indian Prime Minister Narendra Modi strongly condemned the "cowardly" attack.
Mr Modi branded it "a senseless act of unspeakable brutality" and said India shares rival Pakistan's pain.
"It is a senseless act of unspeakable brutality that has claimed lives of the most innocent of human beings - young children in their school."
"My heart goes out to everyone who lost their loved ones today. We share their pain & offer our deepest condolences."
Home Minister Rajnath Singh earlier said the attack, one of the bloodiest in Pakistan in recent years, exposed the "real face of terrorism".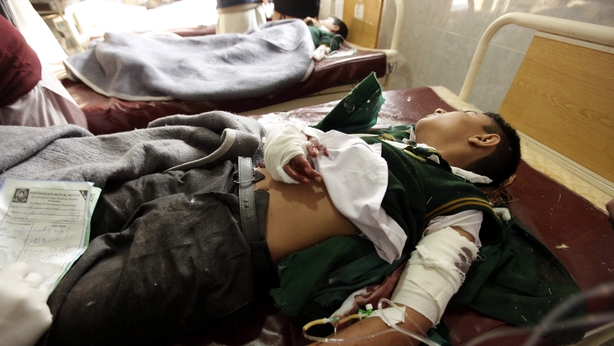 Minister for Foreign Affairs Charlie Flanagan condemned the attack and expressed his condolences to the families of victims.
He said: "This was an attack of savage brutality which targeted innocent children in their place of study.
"Those responsible showed extreme cowardice in carrying out this senseless act of violence.
"I wish to express my heartfelt condolences and those of the Irish people to the families of the victims and to the people and the authorities of Pakistan on this tragic day."
The United States has condemned the "horrific" attack, with President Barack Obama pledging continued support for the Pakistani government's efforts "to combat terrorism and extremism and to promote peace and stability in the region."
Mr Obama added that "by targeting students and teachers in this heinous attack, terrorists have once again shown their depravity."
US Secretary of State John Kerry said that the perpetrators of this "act of terror" must be brought to justice.
UN Secretary-General Ban Ki-moon strongly condemned the attack saying "it is an act of horror and rank cowardice to attack defenceless children while they learn".
German Foreign Minister Frank-Walter Steinmeier said in a statement he condemned the "criminal attack in the strongest terms".
"The hostage-taking and murder of children exceeds in its cruel cowardice all that Pakistan, stricken by years of terror and violence, has known before.
"We mourn with the people of Pakistan the victims of this bloody terrorist attack. Our hearts go out to the families of the victims. For the many injured we wish speedy recoveries."
French President Francois Hollande condemned what he described as a "vile" attack.
"No words can express the ignominy of such an attack against children in their school," Mr Hollande said in a statement.
The president said that France "supported the government of Pakistan in their fight against terrorism" and expressed solidarity with the victims and their parents.
British Prime Minister David Cameron described the scenes as "horrifying" and a "dark, dark day for humanity".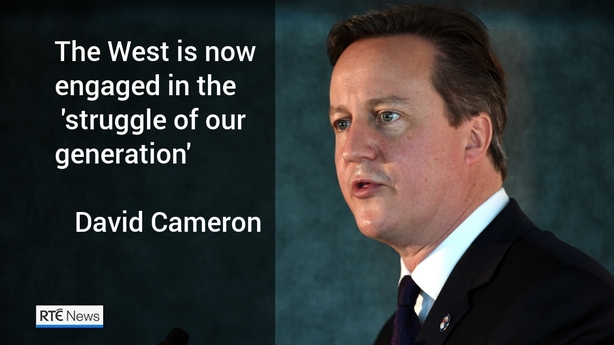 He said: "The news from Pakistan is deeply shocking. It's horrifying that children are being killed simply for going to school."
Ed Miliband, leader of the British Labour party, said it was "appalling" that schoolchildren should be targeted.
Mr Miliband added: "Devastating news from Pakistan. Appalling that schoolchildren were targeted in this murderous attack. My thoughts are with those affected."
Plan, an education NGO, has also condemned the attack.
Speaking from Pakistan, Plan Country Director, Rashid Javid said: "This is an absolutely outrageous and senseless attack on innocent children who were simply trying to pursue their education.
"To attack a place of learning, which is supposed to provide a safe sanctuary where children can thrive and prosper is unconscionable.
"Regrettably, this act bares many of the hallmarks of the attack on Malala Yousafzai two years ago.
"Some groups and individuals persist in trying to deny children their rightful access to education. They are determined to stop children from reaching their full potential, improve their lives and make a meaningful contribution to their societies."