Tánaiste Joan Burton has again ruled out introducing rent controls to address the growing problem of rising rents.
Ms Burton was speaking after figures from the Private Residential Tenancies Board showed the cost of renting a home in Dublin has risen by almost 10% over the past year while nationally, rents are 5.6% higher.
Ms Burton said that the Government has brought in flexible system rent supplement support for people who are risk at becoming homeless and she said that this year under 20,000 rents had been negotiated using the rent supplement system.
She acknowledged that rising rents were a concern, and said people wanted certainty and that a reform of the system would be looked at so that people could negotiate tenancies for a longer period of time.
Ms Burton said that if people have issues with landlords and renegotiating rent they should contact organisations like Threshold.
She said there were constitutional issues attached to introducing rent controls.
The PRTB figures show national rents are 5.6% higher, while figures in Dublin are up almost 10%, but the speed of growth in the capital has shown signs of moderating in recent months.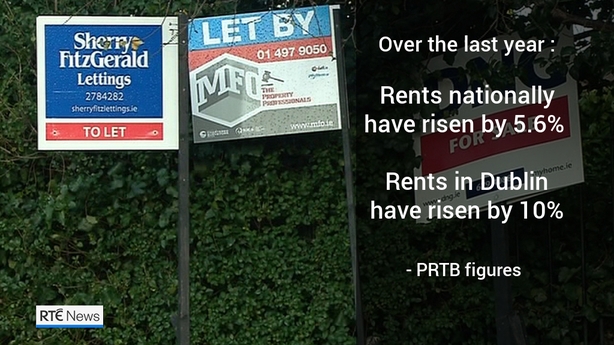 It is the strongest annual increase since the market began to recover at the beginning of last year.
There was a 2.3% rise in Dublin when figures for the three months to the end of September are compared to the earlier quarter.
Nationally, rents are almost one fifth lower than their 2007 peak.
Increasing rents forcing people out of private accommodation have become a major social issue.
While the rise continues, it will only add to concerns about an accommodation crisis.
Today's index shows that rents for houses were 4.3% higher in the third quarter compared to the same time last year, up from €786 to €819.
Apartment rents were 7.3% higher than the third quarter of 2013; up from €805 to €864.

PRTB's Quarterly Rent Index is compiled by the Economic and Social Research Institute (ESRI).
The PRTB says it is the most accurate rent report of its kind on the private accommodation sector in Ireland because it is based on the actual rents being paid, as distinct from the asking or advertised rent.