President Michael D Higgins and his wife Sabina Higgins have arrived in Beijing for the start of a week-long State visit to China.
The President was greeted at the airport by Vice Minister of the Chinese Ministry of Foreign Affairs Wang Chao and Irish Ambassador to China Paul Kavanagh.
Mr Higgins is being accompanied by Minister for Finance Michael Noonan and Minister for Foreign Affairs and Trade Charlie Flanagan.
The delegation was driven from the airport to a city centre hotel in a lengthy motorcade along a motorway bedecked with Irish and Chinese flags.
President Higgins and the delegation also visited the historic Forbidden City in Beijing.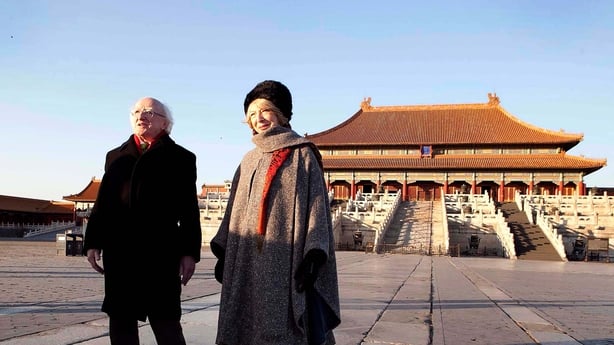 After a tour of the complex, President Higgins signed the visitors' book and there was an exchange of gifts.
The delegation will visit the Great Wall of China and a contemporary art complex tomorrow.
In the evening, IDA Ireland has organised a dinner that will be hosted by Minister Noonan.
The dinner will be followed by a cultural evening at the Forbidden City Concert Hall.
The highlight of the visit takes place on Tuesday when President Higgins will meet Chinese President Xi Jinping.
Further political, cultural and trade contacts are scheduled for the week in Beijing, Shanghai and Hangzhou.