South Africans are marking one year since the death of Nelson Mandela with commemorations recognising his enormous legacy as an anti-apartheid icon and global beacon of hope.
Religious leaders and traditional healers gathered for an early morning interfaith prayer service to mark a year since the death of the former president and human rights hero.
The former president and Nobel peace prize winner died on 5 December last year, after a long illness.
In a sombre ceremony attended by government officials, diplomats and South Africans of different races, speaker after speaker lauded Mandela.
"He fought for freedom and for freedom he was prepared to die," said Ahmed Kathrada, a prominent anti-apartheid activist imprisoned for years with Mandela.
"That was the Madiba we always remember: a father, a family man, and above all the people's man."
"Resting alongside his struggle brothers and sisters, Mandela was happy", said his widow Graca Machel.
"Madiba is, in spirit, the same even today," she said, "I know Madiba is smiling, Madiba is happy because he is amongst the family he chose to build."
Mandela was buried on 15 December at Qunu, his ancestral village in the Eastern Cape region.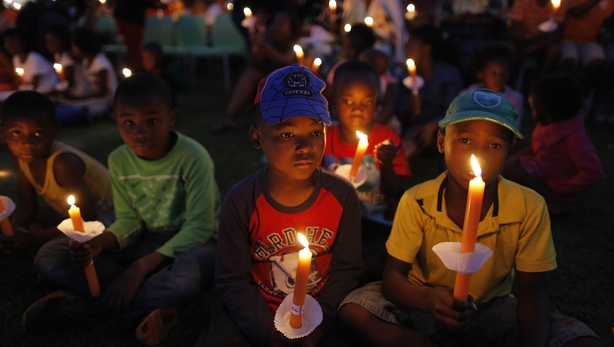 South Africans were also finding their own ways of remembering the former president who led their country out of the dark days of apartheid after enduring 27 years in prison.
Fellow Nobel Peace Prize laureate Archbishop Emeritus Desmond Tutu called on South Africans to emulate Mr Mandela's example in a statement to mark the anniversary.
Archbishop Tutu, referring to Mr Mandela by his clan name, said: "Our obligation to Madiba is to continue to build the society he envisaged, to follow his example."
"A society founded on human rights, in which all can share in the rich bounty God bestowed on our country. In which all can live in dignity, together. A society of better tomorrows for all."
Mandela's death was met with a worldwide outpouring of grief.
He had set South Africa on a course towards reconciliation after he emerged unbowed from nearly three decades in prison in 1990.
Mr Mandela later became the country's first president to be elected by universal suffrage in 1994.
His one-time jailer FW de Klerk, who shared the Nobel Peace Prize with Mandela in 1993, called on South Africans to honour his legacy.