Food company Danone is investing €26m in a facility in Wexford with the creation of 50 jobs, while a specialist healthcare recruitment group is to create 100 jobs as part of a €5m investment in its operations.
Danone said its number of employees in Ireland will soon stand at 400.
The 50 new roles are in areas such as quality, food science, operations, engineering and supply chain and logistics.
Recruitment is currently under way.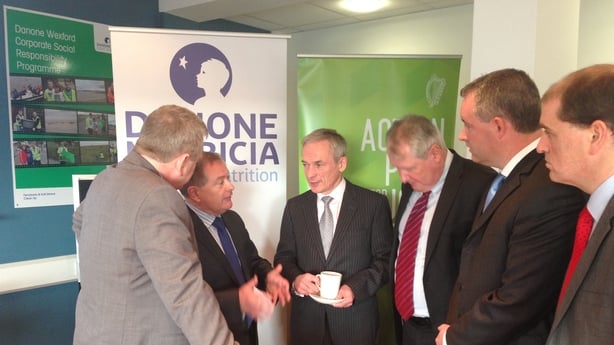 Operations Director for Danone in Ireland Donal Dennehy said: "We are delighted that as Danone's operations grow in Ireland so too do the co-ops that supply us the milk to manufacture our base powders.
"Danone is an integral part of the agricultural and farming community and are proud members of Bord Bia's Origin Green programme.
"We will continue to work with our suppliers and partners from the dairy industry to further enhance the sustainability efforts that we have in place and to ensure that our growth has a long term positive impact on our economy, the community and society."
Specialist recruitment group TTM Healthcare is to create 100 jobs as part of a €5m investment in its operations.
Most of the jobs will be at its headquarters in Ennis, but it will be recruiting some for their Cork, Dublin, London and Berlin offices.
The jobs will be created over the next three years and will be in the areas of compliance and recruitment consulting, and sales.
The company also has plans to expand into the Middle East in the coming months.
Around 45 anti-water charge protesters gathered at Ballymaley industrial estate outside Ennis as Taoiseach Enda Kenny visited TTM healthcare.