Opposition TDs have described the new water charge proposals as a "climbdown" by the Government.
Fianna Fáil leader Micheál Martin said today's speeches in the Dáil were heard a year ago.
Minister for the Environment Alan Kelly outlined the new water charge proposals this afternoon.
He said people had a choice that is based on either short-term emotion and anger or long-term prudence and common sense.
Mr Martin said the Government spoke of transparency and public confidence last year and that 12 months on public confidence has been "sapped".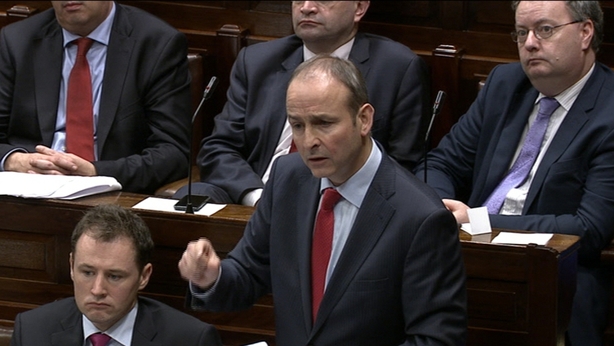 He suggested that the Comptroller and Auditor General investigate the establishment of Irish Water and investigate the awarding of the contracts of €500m.
Deputy Martin said there was non-stop spin from the Government about how people should thank them for being fair and visionary, where as it should be seen as an "unfair and wasteful policy constantly sold as fair and visionary".
He said former environment minister Fergus O'Dowd was right when he said the set up of Irish Water was an unmitigated disaster and unless it stopped, it would continue into the future.
Sinn Féin leader Gerry Adams said the Government claims it is listening to the people, but if that were true they would realise that people were not looking for a reduction of the charges, they were looking for the charges to be scrapped.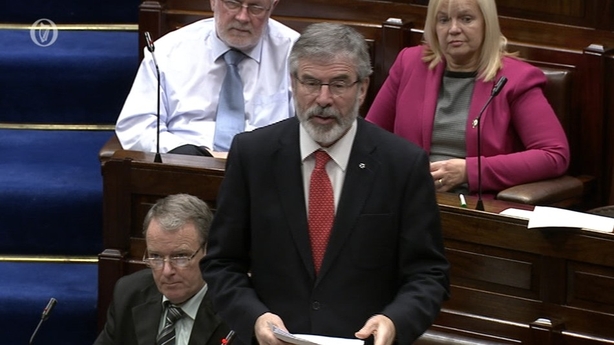 He asked Tánaiste Joan Burton to explain Labour's u-turn on the 'Every Little Hurts' advertising campaign during the 2011 election when the party promised there would be no water charges.
Mr Adams said Fine Gael is the political champions of privatisation.
Socialist TD Joe Higgins said the people of Ireland are not fools and they recognise political trickery when they see it.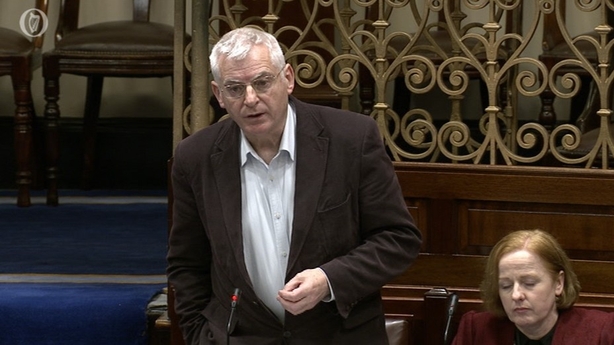 He said they will recognise this transparent manoeuvre to get Fine Gael and Labour through the next general election and said the campaign to abolish water charges will not let up.
Mr Higgins predicted that "the capped charge will rocket when it suits any establishment government in the future".
On the Water Conservation Grant, Mr Higgins described it as an "incredible bureaucracy" for people to pay €100 and then have it sent back from the Department of Social Protection.
He said it was "Alice in Wonderland" or "Alice in Joan and Enda Land or Blunderland."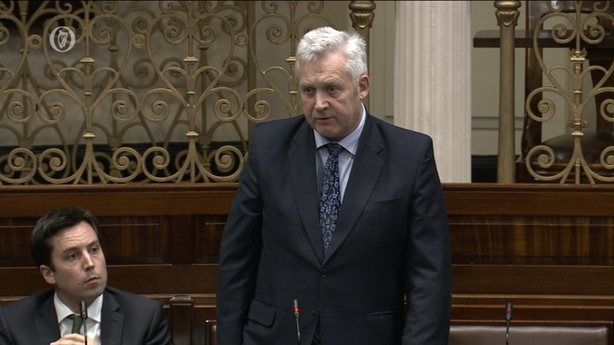 Former minister Fergus O'Dowd hit out at Fianna Fáil's Barry Cowen who said he only spoke his mind "when the horse bolted and he was no longer a minister."
Mr O'Dowd said "any of the officials he worked with would say he was never silent on his concerns over Irish Water."
He added he raised concerns about water poverty at the outset of the process, and also that he said at a high level departmental meeting in front of the minister that Irish Water would be "an unmitigated disaster."
The former minister also said he wanted to give the "red flag to the Socialists who have disrupted the decent and honourable men who are installing water meters."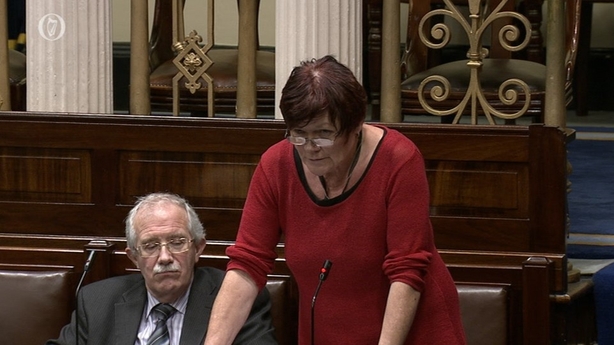 People Before Profit TD Joan Collins described Irish Water as shambles and a sorry mess.
She warned that there will be more people out on the streets on and there will be mass non-payment next year.
She also said that it was "pathetic" for the leader of the Labour Party to portray the protests as not-genuine.
Minister for Transport Paschal Donohoe said that he heard Deputy Collins' speech before in relation to bin charges when she promised to defeat bin charges.
Socialist Party TD Ruth Coppinger said the reaction so far to today's announcements indicates that the public has not been fooled by what she described as a con job where charges are being at a lower level and would be ratcheted up at a future date.
Speaking on RTÉ's Six One that the Government cannot legislate for what any future government would do.
She called for a boycott of the charges from next April and said the proposed penalties would not frighten anyone.
Deputy Coppinger said the protests against the water charge will continue.